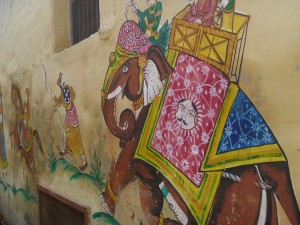 So I decided  one moment to change locations, to jump from the frying pan into the fire ad to give India a chance to romance me. Fed up with the flies and the fires, the heat and the absolute frustration of my every day existence of disconnections and electricity problems, I wanted to be able to spend a few days without feeling pissed off and frustrated.
India is like that, I find. If you get bored or pissed off you can just change locations and have another experience altogether and Rajasthan can always be relied upon for both charm and romance not to mention great chai and even better chapatti! While it may be a furnace in parts of the state now, its the perfect time to visit because people have time to hang out and pass the time. Days stretch out in the shadowed refuges from the heat of the sun and there is always a call for one more chai, to leave a place takes at least three attempts as the locals reason that there is no need to hurry, or that they have just ordered more chai or that something is about to happen. Days slip effortlessly into nights and before you know it another day has passed without having to wrestle with the internet, the electricity or the flies. And then there is that mysterious desert breeze that whispers softly over your skin just when you think you may spontaneously combust with the heat!
Here in Bundi is the charm and romance of an India that stretches back in history over seven hundred years, a palace that is whispered to have been constructed by the faeries, painted houses and painted palaces. Its a village of artistic pursuits and time pass.  There is the morning gathering at the local chai shop and smiles an ocean wide from small children and yes! Even the women will smile and acknowledge you!