A plague of flies and a flurry of confessions bought my Chapatti meditations to a rather abrupt halt. First, my Indian girlfriends all swore that their chapatti were all as un-uniformly shaped as my own and that in fact their maids prepared the chapatti! That kind of took the wind out of my sails, it seriously reduced my theory that the perfect chapatti lay in the DNA of a woman. Nothing daunted, m confidence in my own chapatti making skills soared and I moved on effortlessly to the Paratha Purana, finding beauty in the ability to………..BEEEP!ELECTRICITY HICCOUGHS, THINGS BEEP, WIFI disconnects and the electricity follows.
I frantically try to save everything I am working on, working against the highly agitated and agitating bleep bleep bleep of borrowed electric time and the screen goes dark. Give up waiting for the electricity, stomp up the hill to my hut swearing worse than a Naga Baba and slam stuff around. The fan comes on, signaling that I should return for more madness. Go back down the hill, muttering things like "Get a f'in infrastructure India!" and "I can't liive liiike thiiiiiisss! ". Turn everything on, log in to every page all over again, retrieve half of what was previously written and start again….Slam out of the cottage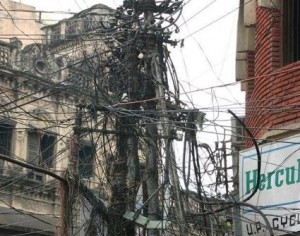 Now, where was I? O yes.. finding beauty in the ability to turn something simple into a heightened experience….BEEP! (My nerves jangle, my heart leaps, things beep and fat and the dirty filthy red X covers the little pc in the corner of my screen that tells me the current state of connectivity, it should be a big fat F in my opinion! Or maybe WTF)
But I digress.. back to the Paratha Purana. O the Paratha I made! You can find the recipes I used here on the delicious Monsoon Spice blog.
That little exercise lasted until the Plague of Biblical Proportions arrived. Flies.
Gazillions of them, attracted by unseasonal heat, the 40 odd goats that have moved in and that little trick India has of making the insufferable seem sufferable when She turns up the heat. Its like just when you think things simply cannot get any madder or badder, India goes "O you think that is bad? Try this! And this! And how about this?"
Cooking became a chore and flies started to get crushed by my rolling pin in their insidious fly insistence of sticking to everything within range. Worse with their shocking lack of boundaries and decency they would have sex on the wing and not mind at all if they landed in my hair while they finished off, they would try to crawl up my nostrils at 4.20am every morning while the rest of the plague descended from their midnight ceiling hideout to start the morning Fly Revelry, that depressing insistent droning buzz of flies hovering over a rotting corpse.
The day I rolled a fly into my chapatti, I lost all taste for eating and started eating like a Nepali in a winter strike… nothing that used heat.
Which was a terrible loss to me, I realized that making chapatti was what I did when the power went out or the WiFi refused to connect, or my pages wouldn't load, or the server started with it's epileptic fits or the program on the borrowed computer crashed or any of the other one billion variations of what could go wrong occurred. Kneading the dough calmed me enough to NOT want to smash things or throw a tanty in the corner. Turning chapatti making into an challenge was supposed to replace the challenge of earning a living online. Probably I should just get up and get a real job, I mused one day when the power was on and the server was out to lunch. But then I watched the chapatti makers slaving over a hot fire in Chandi Chawk one day and decided that probably Baba Life had more going for it.
Except of course I am living Baba life and trying to be something else at the same time! I don't know quite what that something else is but it seems to distract awfully from my Yogi life existence up here in the hills.
(A sneaky sideways glance at the corner of the screen , I see that the computer has decided to display another of its cryptic little signs! Now I have a yellow triangle with an exclamation mark. I ignore it, the little bastard thing)
Where was I? O yes, my Yogi life up here in the hills. It's quite Yogic I suppose, eating such a simple diet, talking once a day maybe if Raju comes up the hill to my cottage otherwise I exercise my vocal cords by swearing at the fates……BEEP! BEEEEP!
Hiccough of the support machines, the fan goes off the dirty red X is back, the fish tank behind me stops oxygenating the fish. This time I am prepared and pick up my book and start to read. The beeps increase in frequency as the outtage increases.. ten minutes, five minutes, three seconds or three weeks, there is no knowing how this will play out….
My meditations are possibly not the kind of meditations that one who lives in the West imagines, I am not sitting calmly in a lotus position in utter imperviousness to the flies, or trying to find some way in which we can co habit if only I released my Mana Maori ego. I am not like most spiritual seekers who kid themselves that you can fake being a Yogi until you make it. I don't wear my spiritual heart on my sleeve, I don't play Dress Up Like an Indian Guru and walk around pretending to be a saint. My thinking is that we are put here to live a human life and to live that to the best of our abilities  is also a path to God. Its possibly his longest running play or Leela, the play of life as they call it here. Knowing this, I mean KNOWING this rather than theorising over this  means that you get to play along without taking anything too seriously or too personally. It's all a divine play and you get a starring role, I reckon. Only past actions or karma will decide which character you get to play.
I meditate on God rolling on the floor splitting his Divine Holy sides laughing fit to bust at my life and crying almost in Divine mirth whenever one of his agents send me into another useless tantrum of rage and frustration.
That my simple and silly life amuses my Beloved is enough to be getting along with for now.
Photo credit:
Paratha Purana: pikeletandpie.com
Electricity wires:bodybuilding.com
Plague of flies: Tissot