Usually I would be green with envy to see that someone  had won a trip to India and not just an all expenses paid trip but an iPad to take along with them. When I came across YaE Treks in my internet trawling in the great cyber ocean of information one day, I could hardly believe my eyes. They GIVE away travel? Reading further and clicking links while I clucked like an old hen, I saw that this was a very legitimate marketing exercise by the company. In any case I was too old, too late and already here in India so there was no point in me even applying. I couldn't resist tweeting the company and saying that I could have saved them the airfare since I was here in India already.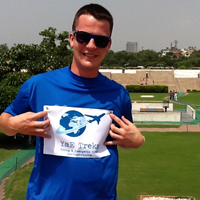 But there is nothing like India being described through fresh eyes, and if you are wanting to promote a company that focus on the youth market then what a fabulous idea just to throw the right combination of ingredients together and throw them into the magical masala of first time travel in India. Things we old sticks have begun to take for granted are what dazzles the eye of the newcomer. So I was interested to meet Drew and record his impressions of India.
One thing I still enjoy about India is that even after all these years, there is still something new to learn or see if only you step out of your well marked and habitual ways. So when Drew's travel agent rep rang after I had sent my driver home and asked if I was free to meet in the centre of the city, I agreed even though I knew it meant I would have to use (eek!) public transport! "The Metro at rush hour will be a new experience" I told myself and set off for the local station. In fact it took me less time to reach the centre by auto and Metro than it took Drew to reach from the airport by car. Ok so it's as crowded as you can imagine but the Women's only coaches certainly lessen the burden of public travel in Delhi by 99.9 percent. And it's cheap, air conditioned too. It cost me less to get into the city than it usually costs me to get to my friends house two suburbs away by auto.
Transport and how we do it in India was the biggest culture shock I think Drew experienced in India. For first time visitors it's always a thrill to get on the road and experience what feels like a Playstation game come to life. "I felt more stressed after an hour on an Indian road than I do after ten hours driving in North American, " he said. "Putting my foot on the imaginary brake and wondering if we would meet death on the next bend."  While it looks like total anarchy on Indian roads there are actually some rules and even police to police them, even if the fines often end up in the officers pocket. Then there is the total commitment to forward movement, if people stopped and gave way and didn't queue three abreast at traffic lights there would be a traffic jam that stretched into eternity. That anyone arrives at their destination and on time is one of those small everyday miracles here.
When asked about his lasting impression of India, Drew said he was grateful that he had experienced travel in another developing nation before India. I could see he was dazzled by the glitter and glitz and seeming disorder of India, dizzied by the full on nine days of whirling around India and in need of some time to download the whole experience into one simple statement that would define the experience. just as India herself pours out of lanes, bulges out of trains, spills over traffic lane, surges and flows and trips and tears along the rocky road of life towards her appointment with destiny, there can be no one single lasting impression of first time India. It's an experience that gets into your blood and fizzes away like lemonade. The destination is the destination but the experience is personal and indefinable, India confronts as much as she intrigues people at a very personal level. It's impossible to avoid that if you are traveling solo. When I asked him if he would come back for a longer, deeper look at the India I love who lives beyond the tourist zones and the cities in the slow quite song of the village, he said he would but that he would bring some friends.
That's the best way to see India if you are young and adventurous, come with a group of friends and see if you don't spend most of your time laughing which is the best medicine for the culture shock of India. They are like this only.
YaE  Treks for the young and adventurous!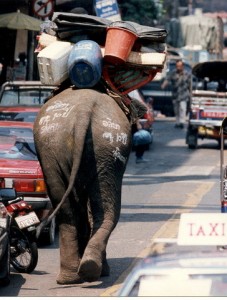 Toot travel picture courtesty of http://www.mrpumpy.net/