Feeling in the mood for some Food and Fun? Try one of these food festivals.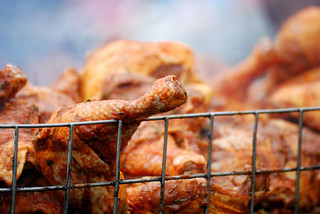 Photo Credit Matt Neale Flickr
New York
Tap New York Craft Beer & Fine Food Festival takes place this weekend, April 28th and 29th, 2012. The festival is held at the base lodge of Hunter Mountain in the Catskills. There are no children or babies allowed, not even in strollers. Parents are advised to make other arrangements for children. The Tap New York festival hours are 1-5 on Saturday and 12-4 on Sunday.
The festival is geared toward learning about craft beers, beer and food pairing and home brewing beer. The theme for this years food is Caribbean, so expect a huge variety of island treats including Trinidadian fish stew, Jamaican Jerk chicken, Caribbean rice and peas, fritters, curry, paella and more. Along with great food there will be cooking demonstrations by professional chefs, including Ric Orlando who has participated in the Food Network show CHOPPED three times, winning once and then participating and winning CHOPPED CHAMPIONS.
Festival tickets are $64 for Saturday, $52 for Sunday and if you want a two day entrance the cost is $105.

Seattle Food Truck Photo Credit Evin DC Flickr
Seattle
Seattle's Mobile Food Rodeo is Sunday May 6th, 12-7. There will be 35 food trucks participating in the Mobile Food Rodeo. This years festival includes free admission, a charity beer garden and a larger seating area. They are also offering a mobile map to guide you on your journey, as well as provide menus for the food trucks. If you want to beat the long lines you can purchase a $25 VIP Express Badge on their website.
This years food trucks include Seattle originals, as well as Caribbean, Mexican, French, Turkish, Thai, Greek Italian, Indian, Texan and so much more. The Mobile Food Rodeo will take place in Seattle's Fremont neighborhood. You can follow the Mobile Food Rodeo on Facebook or @mobilefoodrodeo on twitter.
Sunrise Florida
Jamaican Jerk Festival
The Jamaican Jerk Festival takes place in Sunrise, Florida on November 11th, 2012 from 10 am to 10 pm. The festival includes far more than just Jamaican food. There's a Domino Tournament as well as Cricket matches and soccer games. Cultural performance will take place throughout the day, including folk dancing, a comedian and Jamaican story telling.
The festival includes a Kid Zone with rock wall climbing, maypole dances, sack races and much more. In addition there is a Party Pavilion where DJ's will be spinning island style tunes for your pleasure. For those who love to cook, you can participate in a Jerk Cooking competition as well as watch cooking presentations by well known chefs. Tickets go on sale in August and you can sign up on the website for email notices about ticket sales.
Barbados
Food, Wine and Rum Festival November 15-21, 2012. The festival includes a star studded ensemble with Top Chef judges Tom Colicchio, Marcus Sammuelson, and others doing cooking demonstrations, Barbados Food Wine and Rum Festival YouTube Video Cooking demonstration tickets are $40 each and rum tasting tours are $45. There are a variety of other events at other prices so take a look, they are all listed on the Food Wine & Rum website.
For those in Portland, check out Wanderfood's bites by bike food exploration of Portland, Oregon.