While I was in Playa del Carmen, Mexico at the Blue Diamond Resort , I enjoyed an Apple Martini. That probably doesn't seem like a big deal, unless you follow my blog regularly. I'm not usually a Martini girl, I am a rum drink on the beach girl. Flavored Martini's are generally too strong for me. I've only enjoyed a couple, which I've highlighted previously on Wanderfood Wednesday.
For me to say that I really enjoyed the Apple Martini at Blue Diamond's Ambar Restaurant is really something. Guillermo a bartender at Ambar shared the recipe for the Ambar's Apple Martini.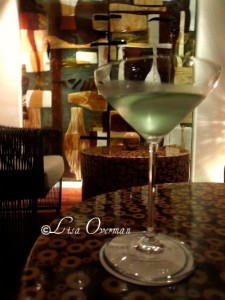 An Apple Martini at Ambar Restaurant in Mexico.
Ambar Apple Martini
Apple Vodka 1/2 shot
Sour Apple 1 shot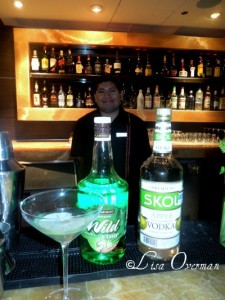 Guillermo our bartender at the Ambar Restaurant.

Music at the Ambar Restaurant
My evening at the Ambar Restaurant was provided by Tourism Mexico and Blue Bay Resorts