Last week I visited the Yucatan Peninsula of Mexico. While I was there I learned a great deal about Mexico, the Maya culture and surprisingly about what makes a great fruit smoothie.
Mexico offers an abundance of fresh, delicious local fruits and vegetables. Restaurants throughout the Yucatan region put these to great use by offering possibly the most delightful smoothies I have ever tasted. These were some of my favorites and they were all excellent!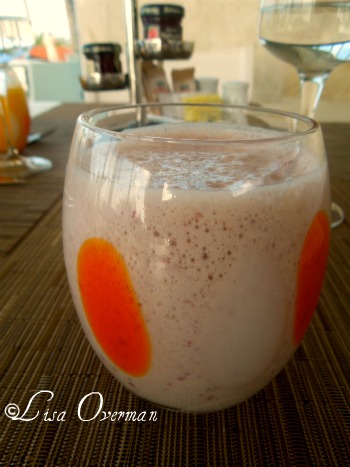 A Black Velvet Smoothie at Blue Diamond Resorts Aguamarina Restaurant
My Black Velvet Smoothie was a happy breakfast accident, and it became one of the my favorite funny moments of the trip. We had a big day ahead of us and I hadn't given myself a lot of time for breakfast so I scanned the menu quickly while talking to Dian Emery from GirlsGetAway and Dan and Audrey of Uncornered Market. Dian and I both wanted something nutritious and quick, so we each ordered what we thought was a bowl of granola cereal with berries, cherries, grapes and nuts. It was after all listed under Cereal World.
Imagine our surprise when the glass above was put in front of each of us minutes later. We looked at each other and burst out laughing. Our granola breakfast had been blended into the most delicious and filling breakfast smoothie I'd seen. It tasted great, it wasn't lumpy or crunchy as you might expect. It was smooth, with the perfect combination of flavors and was so filling as we both felt satisfied until lunch. What we realized later was we were reading the fruit juices and smoothie menu.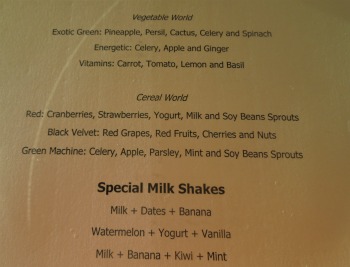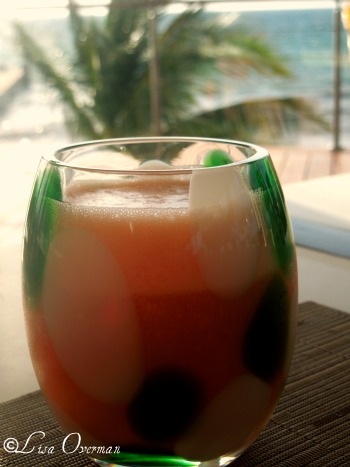 A Detox Smoothie overlooking the beach at Blue Diamond Resort
I opted for the Detox Smoothie on my last morning in Playa del Carmen. We'd had multiple days of exceptional food and I wanted to start my day with something exceptionally healthy and fresh. The Detox smoothie at Blue Diamond Resort is made with fresh peach, orange, strawberry and red grapes and is a great choice for breakfast.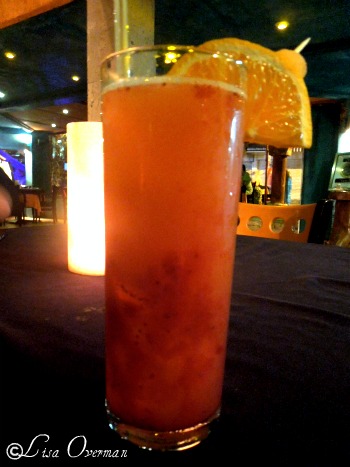 A Tulum fruit juice smoothie at Yaxche Restaurant in Playa del Carmen.
Yaxche is a five star diamond award wining restaurant which offers traditional Maya specialties with a cosmopolitan twist. Everything I tasted on the sampler menu was exceptional. With my dinner I enjoyed the Tulum, which was made with fresh orange juice, strawberries and mango. It was both refreshing and enjoyable.
Special thanks to the Mexico Tourism Bureau and Ogilvy PR who provided this trip. The opinions of my experience are strictly my own.