When I learned I would be visiting the Hotel California in Todos Santos, I was thrilled. I am a huge Eagles fan! I held tight to the dream that the hotel was actually the inspiration for the Eagles song. Over lunch at the hotel, a fellow writer shared that it wasn't……ahk don't rain on my parade. It feels like the inspiration.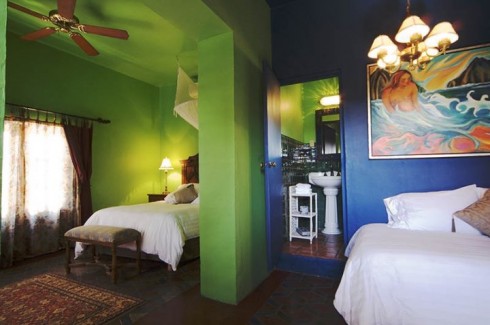 One of eleven rooms and suites offered at the Hotel California.
Room Photos Courtesy of the Hotel California and EatLiveTravelWrite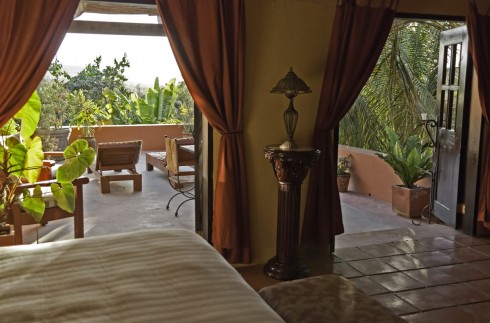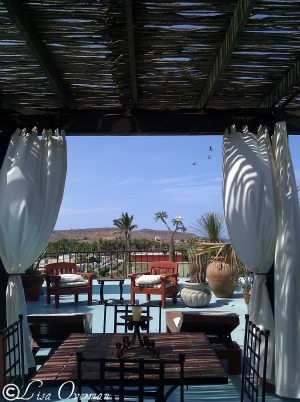 The view from one of the Hotel California suites in Todos Santos, Mexico.
Whether you are an Eagles fan or not, this Baja California Sur town is a gem. It should be on your bucket list. In 2010 Trip Advisor named Todos Santos in their Top Ten Emerging Destinations in the World. Todos Santos was founded in 1723 as a mission. Since the 1980's there has a been an increased interest in Todos Santos due to highway 19 being built between Cabo San Lucas and La Paz. Todos Santos has become home to artists and craftsman, and there are a number of galleries around town. Exploring Todos Santos feels like uncovering a small gem. I loved the small Nuestra Senora del Pilar de La Paz mission church, and the colorful decor and art that graced this historic town.

Sunflowers and pottery in Todos Santos, Baja California Sur, Mexico.
Most of all I was enamored with the Hotel California. We were given a full tour and discovered all of its hidden beauty. The guestrooms and private patios were laid back and beautiful. They offered just the mood for relaxation and romance. To top it off I felt like the Eagles soundtrack played in my head the whole visit. I couldn't get enough of the place, from the unusual artistic touches and colorful decor throughout the hotel, to the mystery of the Eagles song. I didn't want to leave. Wishing for your own Eagles moment? The Eagles Hotel California song on YouTube.
Arrive early in the day, to beat the heat. At times as we explored we felt like we'd melt. Eat lunch at the Hotel California and try one of their oversized Margaritas, they offer several flavors including Mango. Make a visit to Nuestra del Pilar de La Paz Mission Church, it is just around the block from the Hotel California. Be sure to save time to explore some of the many art galleries around town.
My visit to Todos Santos was part of a sponsored trip provided by the Mexico Tourism Board. My impressions of Mexico and Todos Santos are my own.