My Video of the CostaBaja Resort in La Paz.
I recently visited La Paz, Mexico, as part of a trip sponsored by the Mexico Tourism Board. This was my third visit to Mexico, but my first to La Paz. La Paz took me by surprise for several reasons. First, it's a coastal city that shakes things up with rugged desert views blended with azure seas. I didn't expect that at all. Secondly, the city of La Paz is low key and relaxed, rather than touristy; which makes it a perfect vacation destination. I loved my sunset walk along the boardwalk, where I watched local families enjoying a day at the beach, riding their bikes and walking their dogs. It's real Mexico rather than a tourist version.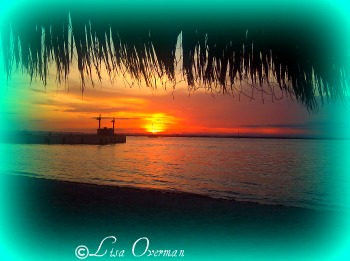 Playing with sunset effects on my photo of the sunset, La Paz Boardwalk.
Before I departed for Mexico I was worried about safety, like everyone I'd heard stories of Mexico being dangerous. I did my online research and departed for Mexico feeling pretty good about what I'd discovered. Yes, there are areas of Mexico that are dangerous, but the La Paz area is safe. In fact when I arrived in La Paz I learned that when compared against thirty California cities La Paz comes in as the third safest, between Mission Viejo and Huntington Beach. I have no concerns traveling or living in California, and now I have the comfort of knowing La Paz is equally safe. La Paz offers visitors a relaxed, casual and safe environment to vacation.

One of many quiet seating areas at the CostaBaja Resort in La Paz, Mexico.
My visit to La Paz included staying at the CostaBaja Resort and Spa. This is the first five-star resort in La Paz and it is inviting, beautiful and relaxing. My room (and all the rooms) at the resort overlook the water and mountains, offering a beautiful view. One of my favorite parts of the day was waking up and sitting on my balcony where I enjoyed the serenity and view. Coming in a close second was my glass enclosed shower that took center stage in the room. The shower is designed with natural stone and frosted glass to cover intimate views. It is eye catching and beautiful when you enter the room.

My room and the beautiful stone tile shower.
If your taste runs to relaxation then you will love your options at the CostaBaja Resort. First they offer a swim up pool bar. Secondly, they offer an infinity pool at the CostaBaja Beach Club just a quick (3 minute) golf cart ride away. The Beach Club is part of the CostaBaja Residential Community, which provides an opportunity for visitors to buy condominiums, villas or townhomes within the CostaBaja Community.

A margarita at the Beach Club.
The Beach Club is accessible to visitors staying at the resort and offers one of the most beautiful and relaxing outdoor areas I can imagine. There is an infinity pool, a bar and restaurant along with restrooms, showers and outdoor seating areas to enjoy the tropical view. Service at the beach club was great, though if you are scheduled for an excursion you should let them know, so they get your food out more quickly. When I asked our driver Javier to pick us up at 8:20 after breakfast at the Beach Club, he was there promptly. That's the kind of service you can expect during your stay.
Looking to veg out and experience a great spa treatment? Try Espiritu (Spirit) Spa. They offer many treatments, including a Mexican Green Coffee body wrap. Mexico is known for chocolate, coffee and vanilla, so ask if your treatment includes any of those local ingredients. While researching Mexico I learned that chocolate was considered a sacred food for the Mayan Gods. No wonder I love chocolate. My Espiritu spa treatment was the Stress Be Gone Massage. The name was fitting, I walked out of the spa feeling good, my muscles were relaxed and I felt at peace.
In addition to the spa, the resort offers boat trips (through Fun Baja Tours) at their onsite marina, or a round of golf at the Gary Player Signature Course. This course is one of 300 courses around the world that professional golfer Gary Player has designed. No matter what your vacation priorities are, the La Paz area will offer you beautiful views set against rugged desert and opportunities to explore, relax with your loved ones and discover Baja California Sur. While you are there enjoy the authentic and excellent Mexican food.
My trip to La Paz was provided by the Mexico Tourism Board and organized by Ogilvy Public Relations. My impressions of La Paz and the CostaBaja Resort are my own.