Mexico has long been a favorite get away for travelers. I've now learned it's an excellent eco-tourism destination. During my visit to Baja California Sur I spent a day twenty miles off the coast of La Paz, discovering the Sea of Cortez. This area was described by Jacques Cousteau as, " the world's aquarium." The natural beauty and abundant sea life surrounding Isla Espiritu Santo and Isla Partida are protected. These islands and their sea life are part of the UNESCO biospheres program. These islands are uninhabited, and used for eco tourism excursions including diving and snorkeling.
A video of dolphins playing in the Sea of Cortez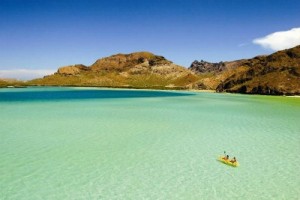 The view from Isla Partida Photo Courtesy of the Mexico Tourism Bureau
I traveled with Fun Baja Tours for the day and found the islands to be a mix of tropical paradise and stark desert landscape. Our captain Carlos spread his arms to the view and said, "Welcome to my office." The untamed beauty and simplicity of Isla Partida makes it a great escape from everyday life. During your visit you'll enjoy swimming in the warm turquoise water, kayaking and rediscovering simple pleasures. The views on the island are indescribable. We all agreed it was as if we'd been transported to a Survivor reward with a chef prepared meal, beach loungers, kayaks, a private outdoor shower and tents.
a<href="http://wanderlustandlipstick.com/blogs/hammockinparadise/files/2011/09/La-Paz-Mexico-dolphins-1b.jpg">

Dolphins playing in the water on our trip back to La Paz.

The beach camp on Isla Partida, Baja California Sur.
Isla Partida offers an eco-tourism camp for divers and day excursions. The island is also available for weddings. The camp sleeps a maximum of 25 people in two person tents. Camp beds and sleeping bags are provided. Walkways to and from the tents along the beach have solar lighting and power for refrigeration and cooking on the island is currently provided by generator. The camp will be installing solar panels within the next year to make the camp completely eco sustainable.
The eco tourism dive camp is staffed by a chef and an experienced dive team. The chef deserves kudos for preparing an outstanding meal in a small, camp kitchen with a single stove. We enjoyed freshly prepared fish, rice, vegetables and tortillas for lunch during our visit to Isla Partida. After lunch Chef Antonio made the time to teach us how to make fresh Ceviche, La Paz style. It offered the fresh flavors of fish, tomato, onion, beer, lemon, lime, peppers, and spices. It was both refreshing and delicious.

The lunch we enjoyed on the island.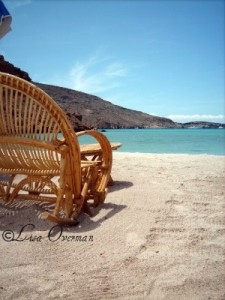 One of my favorite spots for relaxation.
My video of our boat trip to Ensenada Grande on Isla Partida, off the coast of La Paz.
The simple camp and rugged beauty grow on you. I wanted to stay much longer. I envisioned camping for a few nights, sharing icy cold margaritas while watching the Milky Way unfold. If you don't mind an outdoor shower with a sweet beach view and sand under your feet this is the place to go. Heavenly comes to mind, but every word feels cliché and barely scratches the surface of what Isla Partida is. I left refreshed, peaceful and wanting to come back before I was gone. Isla Partida is one of several eco tourism destinations in Mexico.
My trip was organized by the team at Ogilvy PR, and provided by the Tourism Board of Mexico. This included my flights, accommodations at the CostaBaja Resort, as well as all meals and activities during my stay in La Paz. My opinions of Baja California Sur are strictly my own.