Where you lie your head is an important part of your vacation. Choosing a resort that showcases the beauty of the island adds a dimension of pleasure to your experience. Recently I had the opportunity to experience the island of Barbados and stay in an Elegant Hotel property. There are five resorts within the Elegant Hotels group on Barbados. I stayed at the Tamarind Cove and found it delightful.
From the time you walk in to the open air lobby you will begin feeling the welcoming atmosphere and experience the attentive staff. The resort offers modern colorful touches, providing an understated atmosphere that allows the finest elements of the island to shine. 80% of the rooms offer an ocean view and families as well as couples find it a wonderful place to uncover paradise.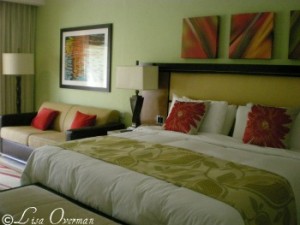 A Tamarind Cove Ocean View Room

Tamarind Cove Beach View Seating
The ocean front setting and walkways filled with tropical plants offer you a piece of paradise. This 104 room resort is built around outdoor living. There are multiple outdoor relaxation areas. There are two bars and three pools, including one for adults only. There's also an open air restaurant. The entire resort lends its self to relaxation and a slower pace of life.
Breakfast is included in your stay and is presented buffet style. You have the option of freshly cooked entrees. The buffet includes tropical fruits, European cheeses, and other favorites, including homemade banana bread. Breakfast is a relaxed meal at Tamarind Cove, with seating overlooking the pool and patio. You will often see tropical yellow breasted birds as you start your day.
There is a spa on premises. While you're being pampered your children can enjoy the Flying Fish Kids Club. The club offers children and teens of all ages hands on activities including beach cricket, pool games, racket ball and island excursions. They also offer a supervised teen area with movies, Wii and a place for playing pool and hanging with new friends.
If its romance you want to ignite on Barbados then Tamarind Cove offers a setting for romance with beautiful rooms, lounging robes and balconies overlooking the ocean. You can watch the sunset and walk the beach as night falls. There are so many private seating areas that sharing a drink with the one you love will be private and relaxed. If you want to add a special touch of romance to your evening you can request chocolate covered strawberries and heart shaped truffles. You can also request a bottle of chilled champagne or fresh island fruit delivered to your room.
The staff of Tamarind Cove are friendly, welcoming and helpful. They will make your stay on Barbados memorable. If you desire they can organize tours or a driver for excursions around Barbados.
*My trip to Barbados was provided courtesy of the Barbados Tourism Authority; my opinions of the island and resort are strictly my own.