Chef Peter Edey has made it his lifes work to see that Bajan cuisine remains well represented on Barbados. As part of this work he trains 80 budding culinary students each year at The Dining Club Group. Students for the program are selected from local high schools. The top students from this program participate in an annual Junior Duelling Competition. Additionally Chef Peter Edey hosts well known Caribbean cooking shows including, Cooking the Bajan Way, Caribbean Cuizine and Duelling Chefs.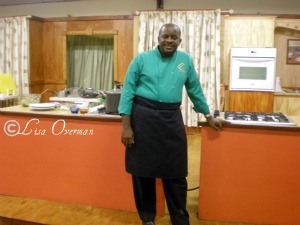 Chef Peter Edey in his studio kitchen on Barbados.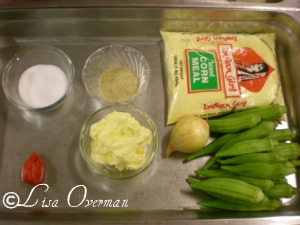 The ingredients used in Bajan Cou Cou.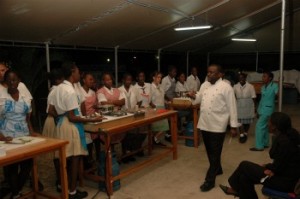 Chef Peter Edey's passion is evident when he speaks of training his students. He feels strongly that Bajan food and its cultural roots need to be emphasized on Barbados. He feels it is particularly important today with so many outside food influences. It's clear that Barbados, Bajan food and the culture of Barbados are his passions.
Chef Peter Edey owns and runs Scotch Bonnet Restaurant. He currently has two locations and is in the process of opening a third. His restaurant offers an opportunity to experience traditionally cooked Bajan food for lunch as well as dinner. Prior to opening Scotch Bonnet Bajan food was served only at lunch on Barbados.
I was fortunate to spend an afternooon with Chef Edey and to experience local Bajan cuisine. He taught me to taste as he cooked. This allowed me to experience the full impact of an ingredient on the dish. He taught me that Bajan food has its roots in slavery. Slaves were given the left over, undesirable parts of the pig. With these parts they created one of Barbados most well loved dishes, Pudding and Souse. This dish has two halves and both are tasty! Peter Edey's Pudding and Souse was outstanding. The Souse contained chunks of Pork Belly Loin and a pickled cucumber relish that adds a fresh taste. The Pudding was made up of local sweet potato, butter, thyme, and other spices

Lauren Monitz and I helping to prepare ingredients during our Bajan Cooking Lesson. Photo Credit Mary Ellen Whitford
This traditional Bajan dish is served on Saturdays throughout Barbados. When I asked him why he explained that it started with the tradition of slaughtering the pigs on Friday night. Families would take the left over parts of the pig and turn them into a dish of Pudding and Souse. Even though many things have changed on Barbados this Saturday tradition of cooking and eating Pudding and Souse remains.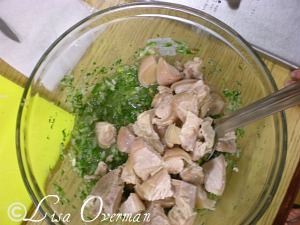 Preparing Souse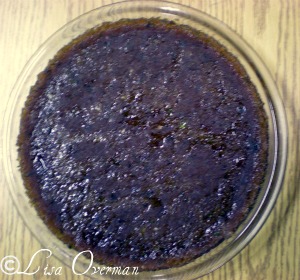 The Pudding part of Pudding and Souse.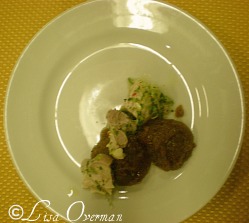 Pudding and Souse
When visiting Barbados make a point to eat the local dishes. Eating these dishes and talking to the locals about their food and traditions gives you a deeper understanding of Barbados, it's culture and it's well loved food. Special thanks to Chef Peter Edey and his staff for sharing their time with us and teaching us about Bajan cooking.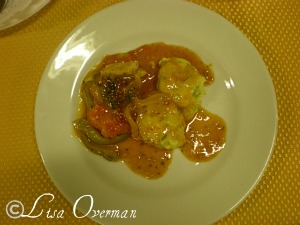 Flying Fish and Cou Cou