Just being on the island of St. Kitts feels like pure pleasure. Taking pleasure to a deeper level with a visit to the Emerald Mist Spa at the St. Kitt's Marriott Resort is the perfect antidote to releasing any remaining worries. The spa offers individual and couples treatments that fulfill your every desire for pampering. The spa atmosphere is inviting and calm; while the staff are friendly and knowledgeable about the spa treatments.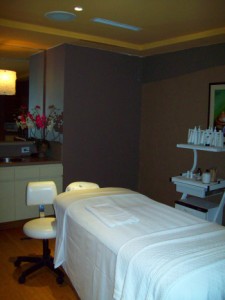 There are nine types of massage available including a Cinnamon Hot Stone Massage. There is also a Bamboo Massage using warm flat bamboo disks and bamboo rods. There's a Kittian Signature Massage which begins with a dry brush exfoliation and then a full body massage using aromatic kukui nut and coconut oil. In addition to massages there are Vichy Shower treatments using pineapple and papaya scrub and lotion. Or you can choose a cinnamon and brown sugar scrub and lotion to complete your Vichy Shower experience.
The spa offers many other treatments, including a sun recovery treatment, a detoxifying body wrap, pedicures and manicures. For a more extensive treatment consider the The Emerald Journey, a five hour treatment that allows guests a combination of treatments and includes a spa lunch. After your visit to the spa you can complete your pampering with a salon cut, color or even a make-up or massage lesson.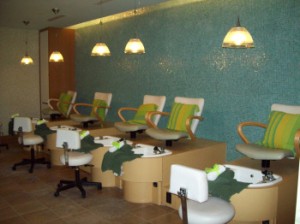 The spa offers a private couples treatment room where couples can experience the luxury of a shared massage experience. Included is the use of a private jacuzzi after their treatment. In addition guests can order lunch from a spa cuisine menu. Along with spa treatments guests have the use of the stream room, sauna and soak tubs. These are all found within the private changing areas for women and men respectively. I particularly enjoyed the steam room with it's steamy eucalyptus scent. I left feeling cleansed and refreshed.
For guests that would like a spa experience in their room there is the Spa in Room Bath Package. This private experience is set up by a spa butler in your own guest bathroom. It includes a chocolate scented bubble bath run by your own private spa butler, chocolate dipped strawberries and a bottle of champagne. Tea lights and tropical flowers are included to set the mood.
The Emerald Mist spa decor is simple, yet beautiful. Muted floor lighting lines the halls between treatment rooms, changing areas and the private waiting area. Plants and lighting add touches of peace to the spa atmosphere. Treatment rooms are comfortable and roomy with touches of the island in the form of flowers and colors.
The spa offers a selection of Epicuren products including one that is native to the island of St. Kitts, Noni. The Noni fruit is highly regarded on St. Kitts for its healing properties. When I spoke to women at the resort and spa about the Noni plant they all praised it's homeopathic healing abilities for skin, hair and detoxifying the body. They all agreed the Noni fruit smells and tastes offensive. They drink it by holding their nose or mixing it into a glass of juice. It is recommended to drink the juice of one noni fruit once per week to improve the look and feel of hair, skin and for its detoxifying nature.
A Noni Fruit
In order to get the full amount of juice from the Noni fruit the women recommended allowing a single Noni fruit to decompose in a sealed glass jar for four to six days. The juice is then drained into a glass. Kittians either drink the juice alone, while holding the nose or add it to a juice. This helps disguise the taste. When you look at the women of St Kitts it's clear that Noni fruit has healing benefits. The island women have beautiful skin and hair. What better way to get it than with a natural fruit from the island.
I enjoyed my massage experience at the Emerald Mist Spa. I had the Bamboo massage which was thoroughly relaxing and deeply soothing. This treatment is performed by rolling warm bamboo rods over the body and using smaller flat bamboo disks in areas such as the shoulders or upper back that need extra attention. The warming heat and the pressure of the bamboo, along with the expertise of the therapist make this treatment exquisitely relaxing. No matter what your preference the Emerald Mist Spa offers a treatment to suit every taste.
Emerald Mist Spa
St. Kitt's Marriott Resort
1-869-466-8841
US Reservations 1-800-223-6388
Spa Photos Lisa Overman
*This press trip was provided by Marriott Resorts and the St. Kitts Marriott