Blu Seafood Restaurant has a panoramic view of the Atlantic Ocean and a menu that will have you wishing you could try it all. The mood of Blu's is elegant, relaxed and upscale. It's quiet ambiance is perfect for romantic evenings as well as families or groups. The food is excellent and the service is outstanding.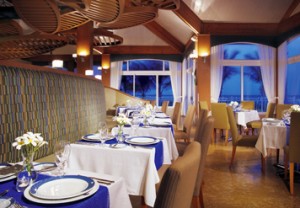 A view of Blu Seafood Restaurant at the St. Kitts Marriott Resort.
Eating at Blu's provides an opportunity to try many Caribbean style dishes, including Carib Lobster with saffron drawn butter, Jerk Spiced Scallops, Seared Chilean Sea Bass drizzled with a mango sugarcane rum sauce, Creole Crab Cakes, Lobster Christophene Fritters or a Young Coconut Chilli Soup with scampi and lemon grass. The menu is so delightful it's difficult to choose just one meal.
For my evening at Blu I chose the Young Coconut Chili Soup with Scampi and Lemon Grass as well as the Lobster Christophene Fritters. The soup was out of this world. It's creamy, rich and filled with flavors of the islands as well as a touch of Thai. I would highly recommend this selection. Along with the soup I opted for the Lobster Christophene Fritters filled with a mixture of fresh lobster claw meat and shredded squash. They tasted great and I'd have them again.
Dining at Blu should include a tropical drink. One popular island drink is the Ting With a Sting which the Kittians have perfected. It's a combination of quality rum and a Jamaican grapefruit soda called Ting. Ting is refreshing and delightful. I found myself quickly loving this island concoction.
If you're looking for a relaxed evening where you'll enjoy some amazing Caribbean food and a relaxed Kittian atmosphere then check out Blu. The restaurant offers a Three Course Special on Mondays which includes music from a Caribbean Steel Band. You can dine under the stars while listening to some island reggae music all for $33 dollars per person.
Blu Seafood Restaurant
St Kitts Marriott Resort
Serving Dinner 6-10
Reservations Suggested
This trip was provided by Marriott Resorts and the St. Kitts Marriott.
Photo provided by the St. Kitts Marriott Resort.