If you're looking to relax after sundown on St. Kitts then Key's Cigar and Rum Bar is the place to find the best rum and cigars along with an outstanding patio view for stargazing. Inside there are table games such as backgammon and chess. The atmosphere is classy, relaxed and comfortable.

Keys Cigar and Rum Bar
Photo Courtesy of the St. Kitts Marriott Resort
The bartenders are friendly and knowledgeable about the fine selection of rums available, including favorites Brinley Lime, 15 year old Ron Zacapa and Don Q Gold. If it's a great cigar you desire while visiting they have a selection of Monte Cristo Dominican cigars, Cohiba Cuban cigars and H Uppmann cigars. These are patron favorites. In addition to fine cigars and fine quality rum there are other drink choices available, including an excellent pineapple mojito.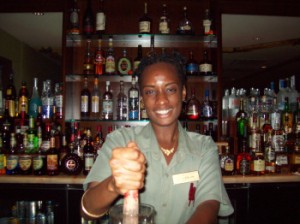 Our bartender Cherise making a Pineapple Mojito at the Key's Cigar and Rum Bar, St. Kitt's Marriott.
This is not your father's cigar bar. It's a welcoming atmosphere for both sexes. I was just as comfortable in the Key's Cigar Bar as I was anywhere in the hotel. The St. Kitt's Marriott Resort pays attention to detail. Service is excellent and the mood is West Indies sophisticated casual throughout the resort. Key's Cigar and Rum Bar is one of those places you'll find yourself dreaming about returning to.
Pineapple Mojito
Courtesy of Marriott St. Kitts PR
4 fresh lg Mint Leaves
2 tbsp Sugar
2 Lime Wedges
1.25oz Cruzan Pineapple Rum
Add mint, sugar and lime to a cocktail glass. Shake until mixed well. Add ice and then the rum. Top the glass with Club Soda. Garnish with a Sugar Cane Stick
St. Kitts Marriott
Keys Cigar and Rum Bar
Open Daily 8 pm to 1 am
WeBeSharin's Happy Hour Carnival with other great drink recipes!