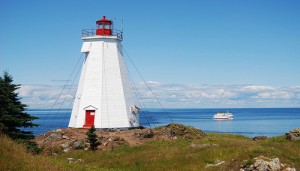 Photo Credit Shared Ferret Flickr Creative Commons

Photo Credit Shared Ferret Flickr Creative Commons
This is a follow up piece to another I wrote recently on island escapes in New Brunswick.
Grand Manan is one of those island escapes where you're surrounded by tremendous natural beauty. This small island off the coast of New Brunswick can be reached by car ferry from Blacks Harbour, New Brunswick. Blacks Harbour is approximately thirty five miles from Calias, Maine where you cross the U.S border. I had the opportunity to spend several days on Grand Manan and found it both charming and peaceful.
The small harbour is filled with fishing boats and the small village is dotted with sweet looking cottages and a few shops. There is a small museum near the ferry landing and a few quaint restaurants within walking distance. During my visit I stayed at Compass Rose Bed and Breakfast with a beautiful view of the water. It was peaceful, restful and charming. The meals at the B&B were well prepared and enjoyable. Of note were the cool summer temperatures. I visited in late July and there were several times that a sweatshirt or jacket was necessary.
Among my favorite moments on Grand Manan were the scenic views and the quiet drives through the countryside where gorgeous Lupin flowers were in bloom. The island is a place you'll come to treasure with it's hiking trails, kayak rentals, Machias Island tours and bird watching. I felt drawn to the beauty of Grand Manan and look forward to returning.