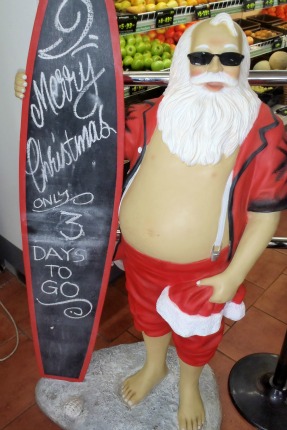 Perry Como was right: there's no place like home for the holidays.
Especially if you live and work abroad, moving your home to somewhere halfway across the globe means festive events will never be quite the same.
However, Santa still delivers presents down here in New Zealand – though he does it in board shorts (and gets a beer for all his hard work, not a healthy dose of milk).
Here are a few other ingredients that make Christmas in New Zealand different from anywhere else:
Decorations: Several types of non-native pines grow wild in New Zealand, and the easiest way to find your perfect Christmas tree is to chop one down or buy one that's been recently cut. Permission is supposedly needed, but these are considered invasive weeds; no one's going to fault you for removing one from the list of local flora. Other household ornaments include:
Christmas crackers, candy canes and balls (baubles) to deck the tree.
Wreaths and miniature trees woven from dried grape vines. This is an artsy tribute to New Zealand's successful and famous wine-making industry.
Pillow case stockings. ("For being greedy," as it was explained to me).
Food: While many snacks and dishes are shared with the country's British settlers and Commonwealth connection, there's a proud serving of regional delicacies and only-made-here treats to try:
Scorched almonds and buckets of Cookie Time. Nuts coated in chocolate, chased by the iconic mini-cookie (biscuit), make a "moresies" snack between Christmas Day meals.
New potatoes – the very first harvest – dug up from the garden and served for Christmas dinner.
Barbecued whitebait patties, lamb cutlets or venison steaks. Whatever is in season locally and tastes good on the grill.
Pavlova. The traditional Kiwi meringue desert, piled in fresh fruits and cream.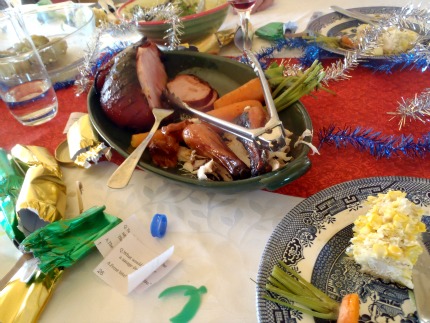 Costumes: Festive dress matches the local spirit: enthusiastic, but understated. You'll find few celebrants in antler headbands or light-up jewelry here. Save your ugly sweaters for the annual themed 'Christmas in July' parties, and instead wear something light and comfortable:
Flipflops (jandals).
Swimming gear (or togs).
Cotton dress or shirt and shorts.
Lots of sunscreen! Most families get outside for a Dec. 25th activity; a burn from the extra-thin ozone will earn you Rudolph jokes for the rest of the day.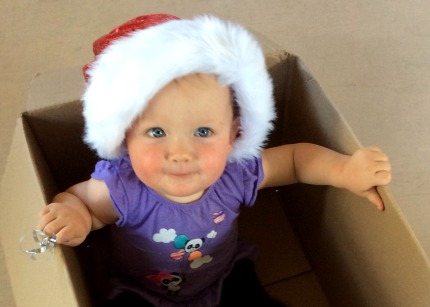 Activities: Yes, the summer bbq is fact, not just cultural stereotype. But along with the outdoor family meal, Kiwis participate in a few other must-do activities:

Set out a cold beer for Santa, carrots for his reindeer. If you don't do this on Christmas Eve, Santa may only leave coal in your pillow case. . .
An outdoor activity on December 25th. Most New Zealanders live within a few hours' drive to the coast; so, maybe everyone meets at the beach, or gathers in the park, or takes fishing rods down to the river for a chance to change the evening dinner menu.
Open gifts. This is usually done on Christmas Day, either in between brunch and dinner, or after dinner – while all that pavlova is digesting.
Wonder what other special traditions make up the Kiwi holiday? Check out my personal blog for the full Kiwi Christmas recipe.
Ready to work and volunteer your way around the world? Follow me on Facebook, Twitter and RSS/email. Until the next adventure! ~ Kelli