Caroline, the Atlanta-born blogger and 'slow traveler' behind Caroline in the City – one of this year's best travel blogs for working holiday visas – gives working holiday visa advice on the benefits of working in hospitality, the most memorable road trips and other lessons learned during a year in Australia.

Q: Why did you pick this country?
A: I was always fascinated by Australia, ever since my grandparents went there when I was younger. I had heard there were plenty of opportunities and the backpacking scene was big. I also met a guy that made me want to travel there.
Q: What was the hardest part of the visa process?
A: The cost was the hardest part of the visa process. Everything was very straightforward, as you could apply online and pay via credit card. The question and answer process wasn't very long either.
Q: What kind of work did you do during your visa?
A: I worked at a hotel in Sydney's Circular Quay at the bar. I also worked a few banquet shifts.
Q: How did you find this work?
A: I applied for a number of jobs without hearing back, but one night I was at this bar and the girl who worked there mentioned an opening. I went back the next week after getting my RSA (Responsible Service of Alcohol) certificate, a requirement of working in bars in Australia, and was hired on the spot. I didn't have any bartending experience, but I'd been a server.
Q: What was your favorite job, and why?
A: Bartending was my only job, but I loved it because I worked with a big group of girls from all over the world, including Turkey, Sweden, Germany and New Zealand. We had team camaraderie, as we were all going through the same stuff in terms of being away from home. I'm still close with many of these girls and have visited them back home and been to their weddings.
Q: Where do you think are the best places to work in this country, and why?
A: Most working holidaymakers find themselves in the hospitality industry because there are almost always openings in hotels, bars, cafes and banquets. The only requirement is an RSA certificate. The pay is great, usually $18 an hour, plus tips, even though tipping isn't common in Australia. There's government healthcare, and your company also pays into a retirement account for you.
Q: What was your best travel adventure in between jobs?
A: When I first arrived, I went on a two week trip with my then-boyfriend to Canberra, Melbourne, the Great Ocean Road and Adelaide. I went traveling again after my six months at my job was up, including a week in the Outback and later a month on the East Coast. Some of my most memorable adventures were seeing Uluru at sunset, doing the Sydney Harbour Bridge Climb, learning to scuba dive in the Great Barrier Reef, bungy jumping in Cairns and holding a koala on Magnetic Island.
Q: What was the biggest shock settling into this country, during your first few weeks there?
A: The cost of living and traveling is pretty shocking. It wasn't so bad once I was earning money, but I was surprised how quickly my initial sum was spent. My biggest advice is to save at least the recommended amount of money to enter the country and then some. I also had to adjust to minor things like finding a new favorite brand of cereal, finding my closest grocery store and taking public transportation.
Q: How did a working holiday change your future (as, I presume, it has)?
A: I will never forget my working holiday and I certainly feel like it changed my life. It taught me what I'm capable of doing alone, like living on my own, working a job and still saving up enough money to go traveling. I made some lifelong friends and only got more of a drive to see the world.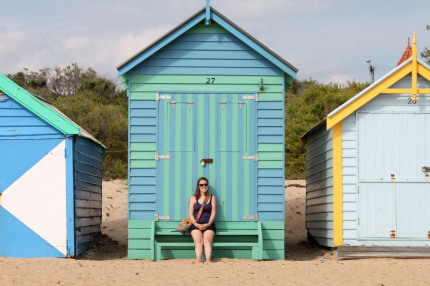 Q: Do you have any advice for people who want to go on a working holiday?
A: My advice is to do it. Don't wait until it's too late (age 30 or 35, depending on the country). Working abroad is one of those opportunities that sets you apart from other people and allows you to have once-in-a-lifetime experiences.
Check out Caroline in the City for tips on the different kinds of jobs you can find in Australia, and other places that offer working holiday visas. You can also find Caroline in the City on Twitter, Facebook and Instagram.

Ready to work and volunteer your way around the world? Follow me on Facebook, Twitter and RSS/email. Until the next adventure! ~ Kelli
Photos courtesy of Caroline In The City.