"Nothing is more permanent than temporary."
The Greek proverb, scribbled into my European travel journal some eight years ago, whispers forth from those well-thumbed pages whenever I  find a new space to call home. Whether I'm on a week-long vacation somewhere or finishing 12 months of working holiday, the sentence challenges me to stay put in my current surroundings.
Now especially, as I look back on 30 years, I wonder if continual backpacking has become my own 'normal' – and I wonder if the most daring adventure might not be bungy jumping or climbing Everest, but simply pausing here for a while. Or maybe, as Expat Village points out, this is one of several lies we tell ourselves before moving abroad.
As you contemplate the time and place for settling down in another country, ask yourself these questions. Though I can't give you any right answer, I can share the advice of other travelers and writers.
1. How do you define 'settling down'?
Don't just accept conventional ideas of nuclear families and fences with white pickets. And don't give into commitment issues, either. Take a deep breath and calmly consider the phrase. What type of employment terms does it include? (A retirement package or just a paycheck?) What about accommodation? And who could you share it with?
Keep in mind that no two definitions are the same; so what meaning do you give to this very un-settling word?
"Settling is not a destination, rather a vacation rental staring at an endless sea that dares you to cross its waves."
― Shannon L. Alder
2. Where do you go when you daydream about the future?

It's a figurative query that requires a fast-paced imagination. When you think of yourself in six months or four years, what do you envision? What coveted characteristics and experiences does Older You possess? Maybe you never see yourself as a mother, but daydream about a Labrador puppy. Maybe you hope to receive a Masters degree someday, or finally motorcycle around Vietnam. Your subconscious is putting an image to your desires here, so pay attention!
"A cell is just a room if you don't lock the door."
― Haruki Murakami, Dance Dance Dance
3. What's the worst thing that could happen if you settle down?
For a second time, let your imagination  lose and come up with the very most horrific, terrible, life-shattering event that could happen if you settle down. Is it having a baby? Putting that first foot on the corporate ladder? Getting too involved in a personal relationship? Stretch to the farthest extreme and mark the spot with a giant warning sign.
I felt I was drawing close to that age, that place in life, where you realize one day what you'd told yourself was a Zen detachment turns out to be naked fear.
– Roland Merullo, A Little Love Story
4. What are you afraid of?
Now, examine that extreme. Wild fears typically run amok simply because they're too implausible to be tamed. What minor, more rational worries lurk between your current place and this crazy worst thing? A newborn baby may represent a desire to keep traveling, while a fear of starting in the job field may have something to do with a lack of confidence in your own skills. Chances are 'the worst thing' won't happen – so, do you think you could handle the things that come before it?
And that fear I'd felt, the disembodying confusion, seemed to be a drug I was now addicted to . . . Perhaps I was suffering from the same problem as the man who'd sailed around the world and now on land, facing his farmhouse, his wife and kids, understood that the constancy of home stretching out before him like a dry flat field was infinitely more terrifying than any violent squall with thirty-foot swells.
― Marisha Pessl, Night Film
5. Where are you happiest?
While your definition of 'settling down' may not include a specific place, most of us do associate our warmest moments with a physical location. Think back to any past moments where you remember feeling entirely natural and at home. Who are you with? Where were you? (Your parent's house or a tropical island?) And what were you doing? (Dancing in park or sharing a meal?)
Line up these golden memories of places that felt perfect. How lucky would you be if you could return to the best of these by 'settling down' in the same, or a similar, environment?
Let's not grow with our roots in the ground.
― Criss Jami, Venus in Arms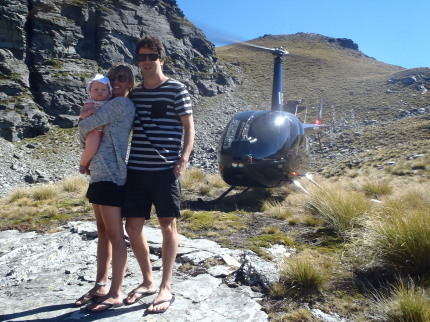 6. What do you want?

Now you've created a dictionary entry for the term 'settling down'; you've reflected on what you're afraid of and why; you've studied the things that would make you most happy if you must put down roots somewhere. Finally, ask yourself what you want. Literally and simply. To stay here or keep going? And don't you dare let anyone else decide for you, because then you'll be 'settling' in all the wrong ways.
If you don't know what you want, you'll never find it.
If you don't know what you deserve, you'll always settle for less.
You will wander aimlessly, uncomfortably numb in your comfort zone, wondering how life has ended up here.

Life starts now, live, love, laugh and let your light shine!
― Rob Liano
How did you decide to settle down in another country? What advice can you share?

Ready to work and volunteer your way around the world? Follow me on Facebook, Twitter and RSS/email. Until the next adventure! ~ Kelli