As several of this year's best travel bloggers about working holiday visas have shown, Australia may lie at the bottom of the map, but it's at the top of the list of popular countries in which to work overseas. A strong economy, diverse landscape and friendly population are just a few of the reasons so many travelers opt to earn their paychecks in Oz. Looking for more excuses to join them and work abroad in Australia?
Here they are:
1. The wages. A high minimum wage, strict labor laws and national union power means all employees – whether a temporary dishwasher or a CEO – are entitled to the same employment standards. You'll typically earn more on weekends, evenings and holidays; accrue up to six weeks of paid holiday; and, receive basic health coverage or emergency care, depending on your position.
2. The work environment. Aussies "work to live, not live to work." While some employers complain about all the state and federal rules that regulate a basic day in the office (or on the fruit farm, wherever you earn those wages), the same employers are quick to commend their country's laid-back, egalitarian working environment. Here, your personality and life experiences count for just as much – if not more – than your relevant job background.
3. The natural environment. Yes, Australia's beaches earn global renown; but there's a whole lot of land in between coastlines, too. From temperate forest to tropical coasts and red sand deserts, the island is a living example of climatic extremes. Claiming some of the most unusual marsupials, deadliest creatures and cleanest air, it's a place beyond comparison to any you've visited before.
4. The music. Want a taste of the surprisingly varied, home grown music scene you'll discover in Australia? Stream an hours' worth of Triple J radio and listen to an eternal playlist of national artists. A massive festival culture springs from this pool of talent, with internationally-acclaimed gigs such as Splendour in the Grass and St. Jerome's Laneway Festival filling up the calender.
5. The menu items. At first glance, Australia's specialty meals seem limited to barbequed sea food and chicken parmigiana. But expanding wine, microbrew and coffee industries create a palate of new beverages. Then, there's the increasing interest in local delicacies: witchetty grubs, kangaroo tail, quondong fruits. Mix in fusion foods from the country's notable Middle Eastern, Mediterranean and Southeast Asian populations, and you're left with an opportunity to taste a thousand dishes unavailable anywhere else.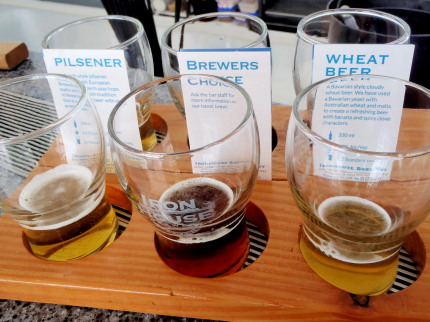 6. The characters.
You'll know them when you see them. Or, if you're lucky, when you hear them: for Australia is filled with the sort of local, born-and-bred characters so vibrantly outlandish, they belong in a fiction book. No description could ever match the real deal, so head out and meet some for yourself!
7. The ability to stick around. Almost every nationality of worker (excluding, unfortunately, Americans) has the option to extend their working holiday visa, either through a few months working in a remote location or by working in one of Australia's in-demand skilled positions. Dedication and efforts in a particular job can be rewarded with an offer of sponsorship, yet another chance to remain in the country.

8. The returns you get when you leave. Once you've left Australia – and can prove that your working visa has finished – you're entitled to a hefty tax return and a portion of the superannuation savings (a mandatory government retirement plan) that were taken out of your wages while you were employed. Can you say "Instant Vacation Fund"?
9. The cheap flights to Asia. And Southeast Asia, and the South Pacific . . . Cheap yet trustworthy airlines, such as Jetstar and Air Asia, constantly offer airfare deals from Australia's major cities. With a timely purchase, you could be in Bali for just a few hundred dollars – or Phuket, or Singapore . . . you get the idea! Consider the inexpensive long-haul flights just another incentive to appreciate your work abroad in Australia.
Ready to work and volunteer your way around the world? Follow me on Facebook, Twitter and RSS/email. Until the next adventure! ~ Kelli