Not every foreign grocery store stocks whole turkeys, and green bean casserole tastes different outside of the States. I've celebrated this holiday in several places, never with the same menu, but always with the same tradition of joining loved ones in a shared meal. This year, instead of holding one special dinner, why not have four – or more? Follow this itinerary of international thanksgiving events to spread your joy and gratitude over a whole season!

For more Thanksgiving stories: Simple Thanksgiving Side Dishes | Thanksgiving Travel Infographic
Crop Over – Barbados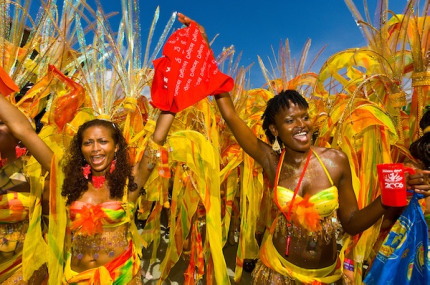 As soon the last sugar canes are delivered, the party begins. Since the 1700s, locals have celebrated the end of the sugar cane harvest with two months of music, dancing, feasting and feathers. Think Carnival: a rainbow of peoples in even brighter (and skimpier) outfits, steel drum sounds and an excess of sensory pleasures.
When to go: May/June – 1st week of August (8 weeks of festivities).
What to bring: A change of clothes and a feather boa. You'll need the first after the messy revelry of Crop Over's opening ceremony, Foreday Morning, where the fete will leave you plastered in paint, mud and colored powders. In the following days, use the boa to blend in with costumed crowds.
What to try: Fish cakes, a patty of salted cod, spices and hot pepper. Cheap and tasty street food.
How to celebrate: Cheer on your favorite calypso band in the competitions, learn a few lyrics of soca music (a regional mix of calypso and soul) and join a masquerade group for the Grand Kadooment parade.
Chuseok – South Korea
Family, both past and present, are the focus of this thanksgiving holiday. Relatives gather to thank their ancestors for the year's harvest, partake in a rich meal and participate in traditional customs. Modern dress is traded for old fashioned hanbok costume, contemporary activities swapped for historical-style wrestling and circle dancing.
When to go: 3 days in August/September, when the harvest full moon appears on the lunar calendar.
What to bring: A spade and a big appetite. Use the first to show respect and clean weeds off ancestral graves; the second will come in handy at the feast that follows.
What to try: Products from the recently-harvested rice: songpyeon (a rice cake stuffed with  beans or nuts) and rice liquor. Both are best when shared with others.
How to celebrate: Visit one of Seoul's ancient palaces, where special programs are held for visitors. Make songpyeon, watch displays of wrestling and horseback riding and learn how to play folk music.
Sukkot – Israel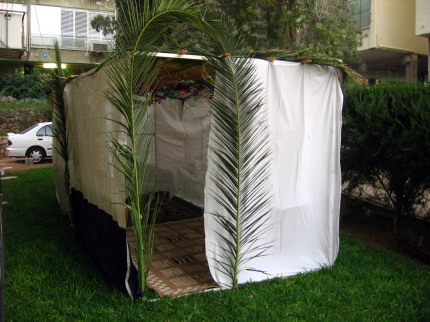 Some scholars think the American Thanksgiving can be traced back  to the Jewish community the Pilgrims lived with before fleeing Europe. Sukkot (meaning Feast of Tabernacles) is a time to reflect on deliverance from strife and thank God for His loving protection. During the seven-day celebration, sukkot (booths) are decorated, then meals and special prayers are performed inside.
When to go: Late September through late October, during the month of Tishrei.
What to bring: Canvas, wood and nails to build the sukkot; these temporary living spaces represent the shelters that ancient Jews inhabited while living in the desert.
What to try: Kreplach, a meat-filled pasty usually served on the seventh day of the festival.
How to celebrate: Decorate a sukka with dried harvest produce, like gourds and corn. Refrain from working and focus instead on special daily religious ceremonies.
Erntedankfest – Germany, Switzerland & Austria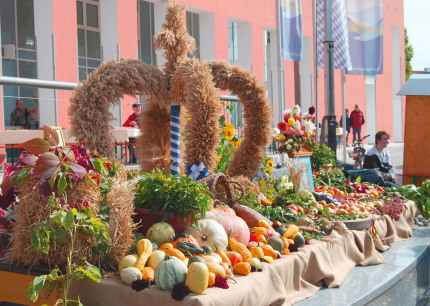 Though it's officially sponsored by Christian churches, the holiday has less to do with religion than it does with appreciation for rural harvests. After a church service, the community enjoys fresh food, music and games at country-style fairs. One lucky lady is crowned harvest queen and presented with a headpiece made from ears of grain and fruit.
When to go: Early October (dates vary depending on location).
What to bring: A stein. After the church service, some parishes hold morning drinking parties called Früschoppen. If you don't use the beer glass then, save it for the infamous Oktoberfest, which also occurs during this month.
What to try: Masthühnchen, a fattened chicken eaten instead of turkey.
How to celebrate: Light a candle and walk in the late-night parade that ends this festive day.
Happy Thanksgiving, wherever you are – and until the next adventure! ~ Kelli
Photo credit: Crop Over – Places To Go In January, Chuseok – Nesnad, Wikimedia, Sukkot – RonAlmog, Wikimedia, Erntedankfest – Bad Gögging Tourist Information, Wikimedia.