Telling your boss, "I'm quitting my job for a year-long sabbatical overseas," requires some bravado. But actually organizing and planning a working holiday can be even more of a daunting task. There are so many directions in which to proceed! What you need is a step-by-step outline, an ultimate working holiday guide, to help you through the process.
Gone Workabout is here to aid you along every step of the journey. Join me each week for the information you need to turn that dream of living and working abroad into reality!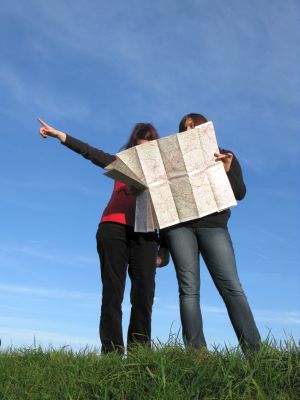 Let's start at the beginning, with reasons to take a working holiday and the basics of who, what, where and when. From visa applications to booking travel insurance, we'll navigate the mysterious world of Immigrations.
After that, we can explore the different countries in which you may live and work; the types of jobs you can get and how to find them; must-experience moments in each location; and, additional resources to utilize once you arrive in your new, foreign home.
Basics: What is a working holiday visa, and why should you apply for one?
Back when the world's borders were mere physical elements, a traveler only needed to ford a river or cross a mountain range to enter a new country. Now, you almost always need a visa. This introduction to the Ultimate Guide explains how a working holiday visa differs from other entry visas; the rules and limitations involved in the visa process; what to expect on a working holiday visa; and finally, examples of other working holiday makers.
Preparations: How do you apply for a working holiday visa? What essentials will you need before and during your stay?
So you've decided a working holiday is your best option for traveling – and getting paid – in a foreign country? Now comes the hardest part: applying! In Preparations, you'll find how-to steps for the little details, such as getting past visa restrictions and submitting your paperwork. Once your application is in the mail, you can focus on finding travel insurance, condensing your closet into a backpack, and creating a support network in your new home.
Places: Which countries provide working holiday visas? Some places are better for certain jobs or experiences; so, where should you go, and why?
To my eternal disappointment, only a few places offer working holiday visas to U.S. passport holders. "Your country doesn't let us in, so why should ours support you," I'm often told. But this is slowly changing, so start pinning your map now. In this section, explore which countries do offer working holidays; how to find jobs in countries that don't; and the prime reasons to seek employment in either.
Jobs: What types of employment can you find, and how will you find them?
As I said before, this next bit should be simpler than compiling your visa application. While the foreign job market can seem overwhelming, the countries that offer working holiday visas do so for a reason: they need you to fill jobs! You may not always land in your dream gig, but this section is designed to help you land somewhere. Learn about the sorts of short-term employment typically geared toward working holiday makers, and how these jobs differ by location; the best methods for finding work; lucrative fields and industry secrets; and, volunteer options for those times you don't need a weekly paycheck.
Resources: What books should you read, what movies should watch, and what online sites will help you make the most of this big move?
Finally – and this is the stuff you'll never find on an Immigration website – all those odd and interesting resources to compliment your journey. Book lists for armchair inspiration and reviews of the latest online literature; travel playlists to soundtrack specific destinations and moments; interviews with other intrepid travelers and working holiday makers; movies that capture foreign culture; and a plethora of internet media to fill in the gaps.
Just follow the links to any of these categories (on the left side of the page) to find answers to your questions; or, leave your comments and questions below!
~ Until the next adventure! ~ Kelli
Photo credits: Creative Commons Google Images