Everyone must bring one friend and one food item. Pilgrim hats optional.
Those were the rules issued to each member of the Vincentian Volunteer Program. Though only five of us actually celebrated the North American holiday, all eleven international volunteers considered it a grand excuse for a party.
Since we were all based out of large cities in the United Kingdom and had traveled to Manchester for this united gathering, some traditional essentials were missing. The green bean casserole contained no French's French Fried Onions; parents and siblings shared their well wishes via Skype; the morning didn't start with a Macy's parade, nor finish with an NFL game.
Other foreign elements were added in their stead. A rickety old table with one gamy leg became the centerpiece; tabbouleh replaced mashed yams and tea cakes took over for pumpkin pie; instead of a kitchen full of loud relatives, ours bustled with semi-strangers, close friends and eight different nationalities.
It was the best Thanksgiving ever.
Though nothing resembled the event I grew up with, the spirit of the holiday remained unchanged. We shared our forks and our blessings, appreciating full stomachs and strong relationships. Absent from our families, we found comfort in the presence of others.
Someone even wore a turkey headdress.
Thanksgiving, it turns out, is an emotion we all experience, and nowhere more so than crowded around a broken table, with smiling faces and Arab salad to remind us how lucky we truly are.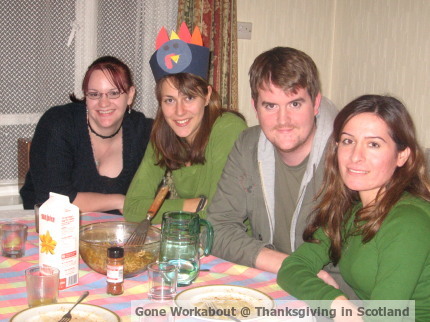 So wherever you celebrate Thanksgiving abroad, I hope these extra ideas help keep the day special:
Start with  something festive: I have yet to see giant Spiderman balloons and marching bands broadcast beyond North America; however, waking up to a seasonal event will set the mood for the afternoon's cooking-and-devouring session. In Manchester, we explored the city's German Christmas Markets. A holiday film, board game, or simply buying food supplies as a group will bring people together until the food appears.
Organize potluck meals: Asking friends, neighbors or coworkers to contribute something creates a sense of community that is inherent to Thanksgiving. If you're celebrating with a large international cast, why not ask each person to bake their national dish? Personal boundaries quickly break down when you're piling up someone else's food on your plate.
Play the "Thankful" game: Provide each dinner guest with one or two small bits (pieces of dried corn, candy, pennies) that will represent individual blessings. Diners can then go around the table, putting each piece into a bowl while describing something they are thankful for.  After a few rounds, all the blessings are blended together, just like the present company!
Make pilgrim and turkey hats: It might sound childish and look immature, but folding a few newspaper hats – or, better yet, cutting and pasting together a turkey headband – can be a fun way to bring back those Thanksgivings of old. In Manchester, the sole kids' headband was a coveted item that got passed around almost as much as the turkey.
Happy holidays! -Kelli