"Traveling outgrows its motives. It soon proves sufficient in itself. You think you are making a trip, but soon it is making you – or unmaking you." – Nicholas Bouvier, The Way of The World
When it comes to our nomadic movements, my boyfriend and I rarely need travel excuses. Two years ago, we rushed (albeit with empty pockets) at the opportunity to see a best friend wed on a Bahamas beach.
And recently, we were lucky enough to witness the vows of two old mates in Ashburton, New Zealand.
When the invite first arrived, we were unsure how to rsvp. A lot can change in six months: our location, our jobs, our finances. Looking ahead, it seemed like an unfortunate tease. We couldn't confirm our participation but refused to give up the dream of another foreign event.
But what excuse could possibly take precedence over this heartwarming ritual – in New Zealand?
So I patiently explored the Marlborough wine region, while my boyfriend and a group of well-meaning guys kidnapped the groom for a two-night stag 'do, or bachelor party.
A car load of us totaled some 240 miles down the East Coast, road-tripping to the small community hosting this "destination wedding."
There, we all watched in 24-hour entertainment, as the befuddled groom became overwhelmed by the supportive company who had descended on his front doorstep.
He couldn't describe the wedding colors, or remember the time of the rehearsal. Hours before the ceremony, he was chasing down cufflinks and frantically searching for a ride to the church.
The groomsmen rolled their eyes; siblings shook their heads in dramatic annoyance.
But when he resolutely stepped in front of the alter, eyes desperately seeking out a woman in a white dress, it didn't matter.
We had all flocked here for a celebration. A number of us hopped across the Tasman Sea from Australia; one best friend flew all the way from Genoa, Italy. With festivities spanning several days, it wasn't a fast or cheap occasion; but it gave us a reason to ignore daily routines, unfortunate news headlines, and commemorate something absolutely joyous. It drew us together in ways other travel excuses – a music festival, a cultural event, a sporting match – ever could.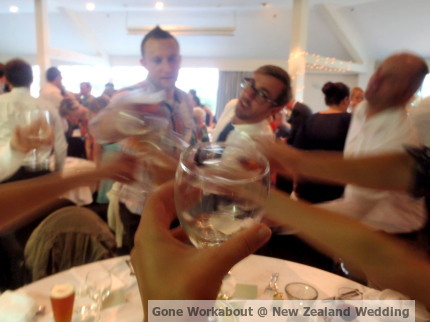 I guess weddings are a bit like a good trip: they remind you that life is, still, full of vibrant and beautiful people. You might spend the first portion sitting back and observing, making polite conversation with strangers. But with a little inspiration, you'll find the confidence to jump up and dance barefoot before the evening's over.
~ Until the next adventure! ~ Kelli