Like many newbie yoga practitioners, I attended my first yoga classes at a chain gym. The gym I belonged to at the time was well-known for its energetic, competitive atmosphere. Those qualities — and its constant, heart-pumping dance music — made it an excellent place for cardio, weight-lifting, and high-energy classes like hip-hop and pole dancing, but they didn't translate as well into yoga classes.
Of course, I didn't realize that at the time, and so my initial yoga practice had an all-or-nothing, almost aggressive quality to it. I was out to downward dog better than anyone in the room, to hold my triangle pose longer than the person next to me. And if that person next to me was using a prop? Well, their practice was clearly inferior to mine.
I looked down on props — all props, from bolsters to straps to blocks — as the purview of beginners and the lazy. Now I recognize that there is a lot wrong with that mindset, but it all seemed perfectly reasonable at the time.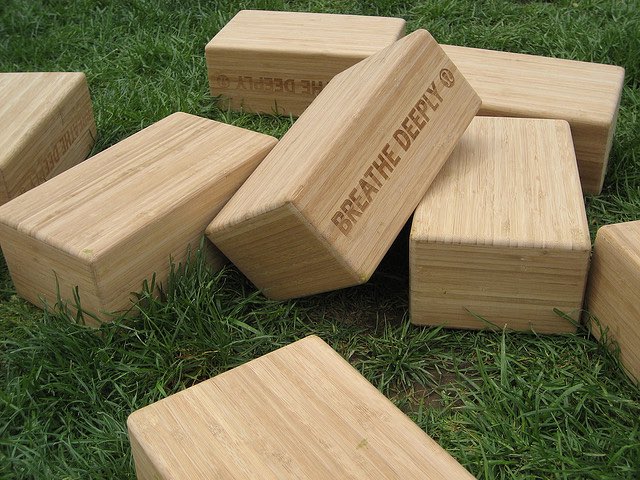 It wasn't until I moved my practice to a dedicated yoga studio that I realized using props isn't tantamount to admitting defeat. Using props is actually a smart way of honoring your body. With the assistance of props, you can maintain proper alignment while gaining the support you need at that stage in your practice, or even just that particular day. There is no victory in forcing yourself into a pose that is going to injure you.
Once I discovered the magic of props, I developed a love affair with yoga blocks. I currently practice with these blocks from Gaiam
, but I used to own a set of these blocks from Yogitoes
and just loved them. Someday I hope to get some cork blocks like these ones from Manduka
.
One of the most difficult adjustments with moving my practice on the road was not having a block to use. My half moon pose is a fickle beast, and, without a block to assist me, I am just as likely to fall on my face as I am to complete the pose. Accordingly, I tried a ton of different hacks while on the road to attempt to make up for my lack of a yoga block. Sometimes I still ended up on my face, and sometimes they worked out okay. It is definitely a matter of trial and error! Here are four of the things that I tried to hack a yoga block:
The Suitcase
Pros: Your suitcase is a sturdy element.
Cons: Your suitcase is also likely too large to make an effective block.
Cereal Box
Pros: Depending on the brand, a cereal box might be a good size. The rectangular size generally stays put.
Cons: Cereal boxes aren't very strong, so you can only use a cereal box as a block if you are applying very light pressure (i.e., if you just need something to help stabilize you, rather than to lean on something). If your cereal box is open, you might end up with a mess on your hands.
Books
Pros: You're not going to crush a book, no matter how much weight you put on it. You can adjust the height by adding more books to your stack.
Cons: If you're stacking books, the might slip.
Blankets
Pros: Blankets are good if you use a block to place between your legs in certain poses.
Cons: If you are using them for poses where you need to reach the ground (like, in my case, ardha chandrasana), it might be hard to get enough blankets to bridge the gap between floor and fingers.
Do you have any yoga block hacks? Let me know in the comments!
---
Image credit: Amanda Hirsch