When the majority of your time is spent playing outdoors, when the jungle is your living room, your gym, your activity center, and gallery, indoor space requirements become simplified. A bathroom, a place to sleep, a desk to write on, and a kitchenette satisfy one's basic needs. Throw in a wood burning oven for pizza firing and a coffee shop and I am living in a dream. I spent five nights snuggled up in the bungalows of EcoTreat just a hop, skip, and a jump up the hill past the main intersection of Guadalupe, Chiriqui. The sleek, simple, and modern design of metal and wood and converted shipping containers will peak your curiosity. What are they building in there?
The Pretto Family, originally from Colon, spent vacations at the family cabin on the slopes of  Parque National La Amistad. Visit their website to read the full story of a family's passion for nature, art, preservation and the fulfillment of a life long dream. Derek Pretto, owns and operates an environmentally focused construction company based in Boquete. Derek designed and built the cabins in modular fashion using dimensional lumber yielding a 12×12 cube and minimal waste.
Future plans for the site include six more EcoTreat Bungalows, a hotel where the office and workshop are now, and a house for Derek and his family by the riverside. The next set of bungalows will be 14×14. I found the interiors to be incredibly spacious with plenty of light, expansive storage space for luggage under the bed and just enough floor space to practice yoga inside. If I could add anything it would be a little desk for writing while staying warm and dry.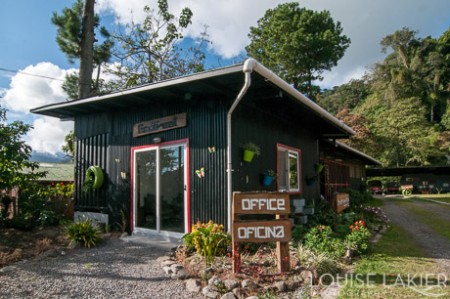 To see more images of EcoTreat Bungalows visit my gallery here.
Beauty is all around you. Look in, look out, and follow the light! ~Louise