It takes time to discover a city. And it takes time to find the hidden gems. In my experience, they aren't always right there in the limelight. The best gems are a bit hidden but still apparent to those who are looking. I have had the good fortune of meeting people in the know who clue me in the right direction. For me, while traveling, after a safe, quiet place to rest my head, comes a good spot with reliable WIFI to sit still for a stretch and write and edit. It doesn't hurt at all when the service is exceptional, the smiles are warm, and the food is colorful, fresh and creative.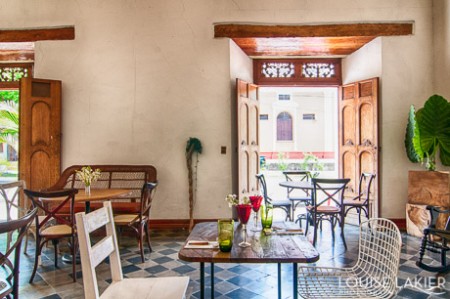 It is a beautiful view from my favorite table. The gorgeous tall colonial space has molded ceilings dating back to 1860, tile floors brought from Italy by the original owner and founder of Ladrilleria Favilli. The table I sit at and the beautiful wood pieces that surround me are all designed and built by the owners. And my favorite theme for design and construction abounds, recycle and reuse please. "Metal bases for the tables come from a junkyard in Managua. The wood for all furniture was picked up from the street. It is so much fun to give something discarded another life. It is a reminder on how states are in constant flux, like power, and we have the ability to manage, to be agents of that change." Andres is a one third owner, along with his partners, Zoltan and Falk, Cafe Espressonista is committed to providing a work environment that acknowledges, supports and rewards the solid foundation and soul of a successful business, the people behind the scenes.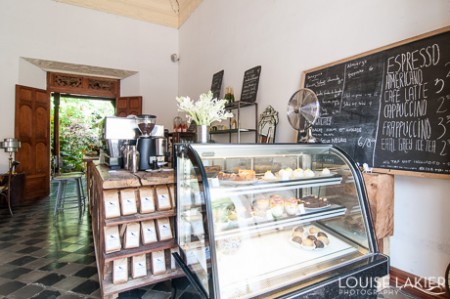 Specialties change from day to day and season to season depending on the creative sparks happening in the kitchen, and the availability of the incredible variety of Nicaraguan produce. I asked Andres to name some of the unique vegetables and fruits and share the creations they inspire:
PUJAUA – Purple Corn: Baked Polenta or Corn Fritters
PITHAYA – Dragon Fruit: Yoghurt Parfait
ASPARAGUS – Grilled Vegetable Salad
CACAO BEANS – Ice-cream and Chocolate Fondant
JALAPEÑA PEPPERS – Jelly for the chicken liver parfait
MANGO – Rice vermicelli and prawn salad with herbs
GUYABA – Guava: Ice-cream
NARANJA AGRIA – Sour orange preserved with sea salt, rosemary, chile, and olive oil.
In the courtyard there is one of a kind shopping from local artisans. Jewelry and clothing by Mignon Vega of Spices and Sugar and postcards for sale from the talented photographers at Empowerment International.
Andres shared the responsibilities of his crew and their favorite dishes on the menu:
Alvaro has the most responsibilities. He runs the kitchen, bakes amazing bread, and also helps out with his construction knowledge of electrical, plumbing, and carpentry. He is our chief operating officer. He likes the filet mignon and the roast vegetable salad.
Carlos makes our yoghurt and fruit parfaits. They are beautiful. Every time he finishes a batch he takes a picture with his phone.
Lester eats everything but he has a weakness for the ice-creams.
Falk shares management of the kitchen with Zoltan. He likes the filet mignon. He also likes sweets. He makes a wicked Quarkkuchen, which is made with home made white cheese and forrest berries.
Zoltan's favorites are the sandwhiches. He creates new types of breads, and he likes a Vietnamese mango, rice vermicelli and prawn salad we sometimes have on the menu.
Everyone had the freedom to experiment and come up with new desserts and types of bread.
"Our workers are the backbone and flesh of our business. They are also the soul of it"
The passion for food and local ingredients is easy to see, but it is the behind the scenes philosophies and operations that make this location soulful. Andres, Falk, and Zoltan are setting up a social enterprise. They are committed to paying their employees a competitive salary, providing them with full health care benefits, and planning to hold benefits and fundraising events to help give their children access to quality education. Competitive salaries, medical access, and education, three basic ingredients for advancement and empowerment. Three ingredients the three partners have all had access to during the course of their lives.
Andres revealed more of the hidden layers that weave Cafe Espressonista in with the community:
The eggs are purchased from Opportunity International, a non-governmental organization creating different projects for economic welfare in Nicaraguan townships. "Our eggs come from a school in Nindiri, the idea is to teach children to practice or to be exposed to creating their own businesses."
They have offered an internship to a student from Empowerment International. As soon as a position becomes available, they plan to hire him. "He is so keen on doing well. The impact the experience at the youth project with Empowerment International is palpable. This young man has a certain thirst for knowledge. It is inspiring."
The produce comes from local, organic farms. "It's a thrill to be able to buy organic asparagus, oyster mushrooms, in Nicaragua, which come from a farm in Ticuantepe, a hilly district of Managua. It means we can have a larger variety of ingredients in our dishes, apart from the plethora of local produce which changes every couple of months. Purple corn being harvested right now, so we are thinking to use it for polenta or corn pancakes. Perhaps even a corn bisque with prawns.".
Suddenly, I am finding myself rather hungry.