Julie Lubick is a nature and wildlife photographer based in Montana. I was introduced to Julie and her work during an Environmental Photojournalism class at the Rocky Mountain School of Photography. I now follow her photography posts on her facebook page and I am inspired every time. I invited Julie to share some of her Nature Photography Tips and Techniques with us photography lovers here on Wanderlust and Lipstick and asked her to include answers to two questions with each image: 1. What moved you to capture the scene? 2. What adjustments were made in post processing?
Ghost Trees
1. This image was made in Yellowstone's Upper Geyser Basin. I was moved to take this image because the steam rising behind the dead trees made them stand out dramatically from the dark forest in the background. The steam and bleached white trees created a striking contrast.
2. I knew when I made this image I wanted to convert it to black and white in post processing. I used Nik Silver Efex Pro for the initial conversion. I fine tuned it by adding structure, which created a lot of texture to the entire image and adjusted the contrast to make the blacks darker and make the highlights of the steam and bleached trees really stand out more. I then used Photoshop to burn the dark areas to further darken them and create even more contrast.
Great Fountain Geyser
1. This is one of the iconic locations in Yellowstone that I've always wanted to photograph. I've seen many beautiful sunset images created at this location and I wanted to try it for myself. This particular evening was a warm summer night with not a lot of clouds or color in the sky. The lack of cloud cover however provided an unobstructed view of the sun as it began setting behind the geyser so I created an image making the starburst of the sun above the reflections of the geyser. I used a very small aperture (f/19) on my 17mm lens to create the starburst effect.
2. In post processing I used Lightroom to make basic adjustments to contrast, color temperature and exposure. I then used the Nik collection of software to finalize the image. I used the Color Efex Pro plug-in to bring out the details in the shadows of the geyser, darken the clouds and increase color saturation. I also applied increased structure adjustments to bring out the texture in the clouds and geyser.
Saint Mary's Falls
1. This is one of my favorite waterfalls in Glacier National Park. In spring the high water creates a dramatic two-tiered waterfall in a narrow canyon that is surrounded by colorful stone walls. The glacial melt water is an amazing turquoise color that is incredible against the red rocks.
2. This image did not require a lot of work in post processing. I used Lightroom to make basic adjustments to levels, curves, contrast and saturation. I then used Nik Viveza to boost saturation and make minor color adjustments. The detail extractor preset in Color Efex Pro brought out some details in the shadow of the surrounding canyon and I added structure to bring out the texture of the flowing water.
Bison Tracks in Grand Prismatic Spring

1.While walking along the boardwalk surrounding Yellowstone's huge Grand Prismatic Spring I noticed some bison tracks left in the colorful bacterial/microbe mats surrounding the spring. They created a nice leading line towards the steam of the spring. I used a low angle and large depth of field to use the tracks to create a diagonal line through the foreground of the image and bring the views eyes to the steam and forest in the background.
2. Editing this image was relatively simple again. I applied basic Lightroom adjustments to levels, curves and saturation. I fine-tuned it more using Color Efex Pro, using the detail extractor preset as a starting point, to bring out shadow details and enhance the colors more and again increased structure to bring out the texture of the tracks.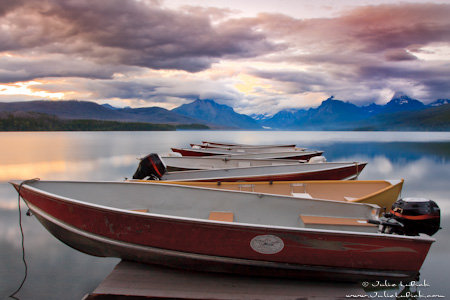 Lake McDonald Sunset
1. This was a stormy night at Lake McDonald in Glacier NP. I was hoping to photography a colorful sunset or maybe even some lightening strikes. I was drawn to this scene by how the alternating boats created a pattern leading to the imposing mountains and storm clouds over the lake.
2. Editing of this image was a little more intensive. I started out as always in Lightroom making basic global adjustments to levels, curves and saturation. I then used Photoshop to clone stamp out the logos on the boat's engines, which I found distracting. I also removed another small boat floating on the lake just beyond the dock. I did a bit of dodging and burning to bring out more contrast and texture to the clouds and mountains.
Five Tips for Nature Photography:
1. Shoot when the light is at its best. Sunrise and sunset are the best times to be shooting outdoors. It is when the light is the most dramatic and colorful and low light brings out textures and details that the camera can't see during harsh mid-day light. Bracket your exposures to get the entire tonal range between a bright sky and dark foreground, which you can later combine in Photoshop.
2. Use leading lines. Leading elements encourage the viewer to travel through an image the way you want. They can direct the eye from the foreground to the background and create a high level of visual impact.
3. Use long exposures. Cameras can record time passing in ways our eyes cannot see. Moving elements become abstract and creative blurs. Through long exposures you can show the movement of the stars, the flow of water and clouds traveling across the sky. I particularly love shooting flowing water with long exposures to simplify the composition and show the power of a waterfall.
4. Use a tripod. Mounting my camera on a tripod forces me slow down and really look at the composition of my image. It also helps provide sharp photos at the best times to be shooting outdoors which is at sunrise and sunset, when you're working with low light situations. A sturdy tripod will also keep your camera steady during long exposures.
5. Use visual anchors. Visual anchors are eye-catching elements that can help simplify a busy composition by attracting the viewer's attention. It provides and obvious reference point and a place for the viewer to begin.
I am completely enamored with Julie's Painterly Trees Series. These abstract images of trees are captivating and leave me wanting to weave my way through them. I'll be trying my hand at this technique here in the jungle.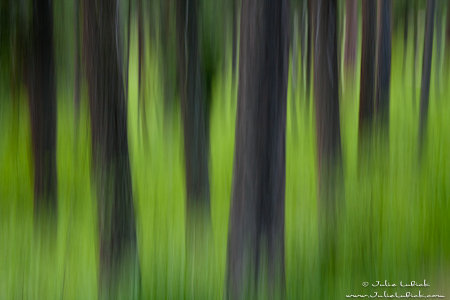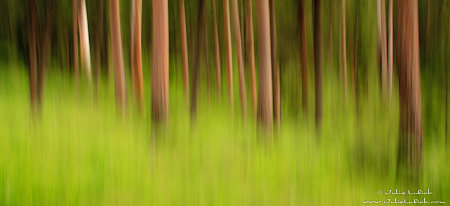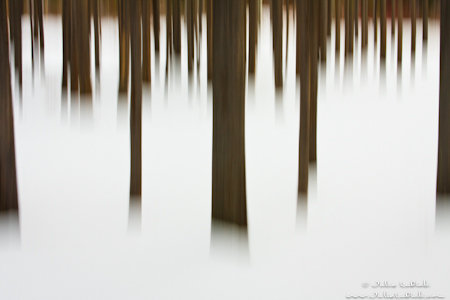 A pleasing blur is created when you slow the shutter speed down just enough to create a nice blurring motion. It can help simplify the image by blurring busy elements and makes the photograph about abstract shape and pattern. Low light is almost a prerequisite to blurs, as it provides the ideal condition in which to use slow shutter speeds. I created these images on heavy overcast days and slowed my shutter speed down to about .3 sec to 1⁄4 of a second, and used a small aperture of f/19. I then experimented creating the blurred motion by panning my camera downward during the exposure. I varied the speed that I moved my camera until I achieved the amount of blur I was after. This effect is created in camera and very little editing was applied later, only minor adjustments to contrast and saturation were made in Lightroom.
To see more of Julie's work and purchase prints, visit her website and follow her blog.