Cabinet card photograph of four men getting into a rowboat mockup in a studio with a painted backdrop. By J.A. Sweet, North Baltimore, Ohio. 1880's.
When I think of David, I have fond memories of Orchids (he used to grow them), and fencing class, horse riding fast, free and wild, and the RISD nature lab. Here in this magical place filled with bones, and artifacts and thousands of specimens of natural history, we would spend hours drawing. I often mix up friends from high school and undergrad, they are a creative lot and both schools are deeply seated in the arts. David is one of those friends who isn't mixed. We attended a high school in Detroit and then went on to study in Providence, Rhode Island. I majored in Architecture and David, in Illustration. Some twenty plus years later, we both find ourselves enamored with Photography. David is an antiques dealer specializing in vintage photography, daguerreotypes and salt prints, polaroids and snapshots of our childhoods, and vintage ephemera. Here is a story about an ephemera collector and a few examples from his collection.
"I really only became a dealer because I was a collector. It certainly wasn't a get rich quick scheme. And didn't have a mentor to inspire me.  It was really just so I could spend more time looking at photography. When gas was cheap, I used to drive 50-60,000 miles a year. I was going to antiques shows in the eastern half of the US. I would often drive 3 hours just to go to one auction, because they listed photography for sale. This was long before the internet, so things seemed less common back then, and the hunt was more of an adventure.  I've seen a lot of small towns in America, and have met a lot of people. I haven't been on a pure vacation in over 20 years. Ever since I began collecting, no matter where I went, I would look in shops and flea markets looking for things to buy. Whether it was a family vacation to the United Kingdom or China, I couldn't stay away from the hunt entirely."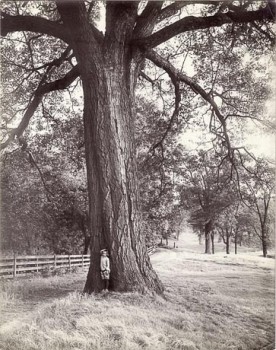 Gelatin silver print circa 1910's. Dedham, MA
LL: When did you start collecting?
DC: I started collecting photography while I was studying Illustration at the Rhode Island School of Design. It all started when I was looking around an antiques shop on the west side of Providence, looking for inspiration for a project. There was a box full of snapshots, priced at 25 cents each. Sifting thru the box I found that they were all documenting one woman's life. Arranging them in order by age, I realized I could make a narrative about her life. It was the story of a largely lonely life, with only one girlfriend and her husband as her companions. They traveled together, and spent some time together. But ultimately it was a solitary life of a spinster with no family. My initial idea was to make a collage with them telling the story of this woman. But when I got home I felt guilty about the idea of cutting up her photos, so I kept them intact in some box. This was the beginning of my collection. 25 years later, they are only worth what I paid for them. They are completely ordinary snapshots, without any historic or artistic merit. But assembled together, they tell a poignant story of some unknown woman lost in time. So I found photography interesting for it's story telling potential.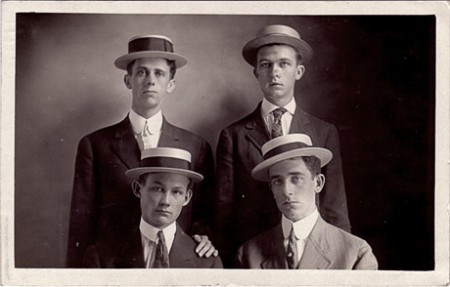 Four Guys Straw Hats, Real Photo Post Card, anonymous. 1900's
LL: What interests you about collecting postcards?
DC: Postcards are a completely separate world from the photography world, and quite a bit larger collecting base. My main interest in postcards are Real Photo Post Cards, and vintage postcards that reproduce posters or Japanese woodblock prints. There are photography collectors and dealers that do buy Real Photo Post Cards. But historically, the photography collecting community has looked down upon postcards. I think they received wider acceptance with the interest in vernacular photography since the late 1990's early 2000's, because they often share similar imagery.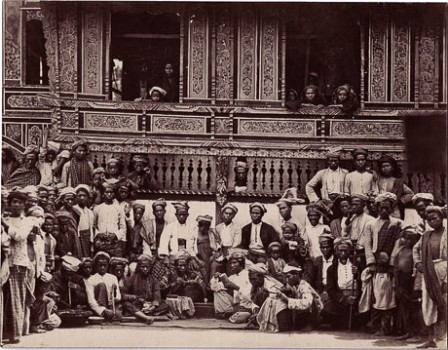 Albumen photograph of Indonesians attributed to Phillips, 1870's
LL: How did you chose to become a vintage photography dealer?
DC: I was extremely unsure about my future in commercial art when I graduated. I decided one day to become an antiques dealer, specializing in photography. I had already been collecting photographs for three years, but I had no real knowledge about antiques, photography, and only a little bit about running business. Through stubbornness and determination, I finally found my footing, and my business began to take off. I think my collecting of a very specific genre of photography helped me out a lot. It gave me something to focus on, and something for me to be known for. I collect a variety of subject matter now, but from the very first photography show I went to, the genre that interested me most was postmortem photography. That interest stems back to some images I had seen in a magazine like Smithsonian or Natural History while in high school. It didn't give any information about the photos. I thought the lighting was beautiful, and I found the ornamentation in the room fascinating. I wanted to find out what the history was behind the ornamentation, which I hadn't seen at modern funerals. I also hadn't heard of people taking pictures of their dearly departed.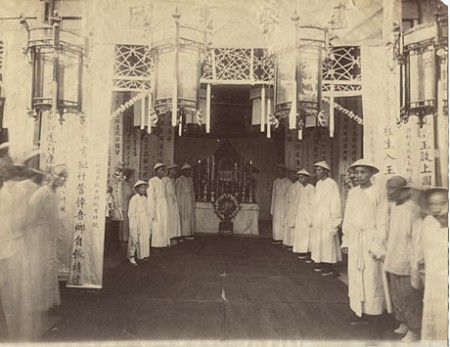 1870's Albumen Photograph of a Chinese Funeral Titled "Minister Kung's Mourning Room of Condolences"
LL: How hard is it to track down information about the photographer of an image, the date, and the location?
Photography research gets easier every year as more and more images are posted online. Google images makes things easier as it gets better at what it's supposed to do. It's far from perfect, but it's a good place to start. I traveled a lot as a kid with my family, and I've been a photography dealer for 21 years, so I already have a vast knowledge of what the world looks like. So, I will have at least some idea what region it comes from. It's just a matter of narrowing things down. I also have a library of photography books about different countries. Auction catalogs are a good resource for information as well.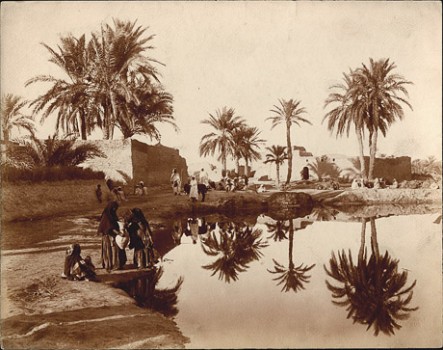 Sepia toned gelatin silver print of Touggourt, Algeria by Photo Landron, 1900's
LL: What is the oldest image you have found?
The oldest photograph I've owned was a daguerreotype from 1840. I've not had any of the really early postcards. The earliest postcards I've sold were from the 1890's for the 
World's Columbian Exposition
 in 
Chicago
.
LL: What is the most exotic location?
I suppose an 1870s photograph most likely from Tibet I sold recently. Or maybe some 1900-1910's photos from Greenland. All continents were explored to some extent by the end of the 19th century. So you can find photographs from most anywhere.
Anonymous platinum print photograph of a woman walking along coast of Italy. 1900's
LL: What is the most valuable postcard you have come across and sold? And for how much?
I think I've sold a postcard for around $400. I've bid on postcards in auctions that eventually went for $2,000-$4,000, far beyond what I bid. I'm not sure, but I think postcards have gone for $5-6,000. The most I ever bid on a postcard was back when I first started buying Real Photo Post Cards around 1996. It was in a catalog auction, with bidding closing once there are no more phone calls for like ten minutes. I think I left a bid up to $1,350, then went to bed, only to wake up having lost it. At the time I thought it was an insane bid and no one would bid higher. It depicted a group of naked men bathing themselves in the middle of a forest. I'd sold a lot of photography to gay customers, and it would've been one of the best images I had to offer them. Frankly, that was probably way beyond what most of my customers would've paid. But I didn't care, because it was one of those images that converted me to RPPC's. It actually would've fit really well in my trees collection.
David started a blog of his tree collection, he hopes someday to get back to. It can be viewed
here
.
LL: Do you have a personal collection that is Not For Sale?
Yes there is a personal collection, and then there is inventory for sale. The collections are really learning devices. Areas of concentration to learn from. The postmortems are largely in my personal collection. But I've sold a lot of postmortem and memorial imagery over the years. I mentioned trees in the previous answer. This was largely a friends collection that I've reassembled and made additions to. I collect Chinese in America related imagery and objects, with both positive and negative imagery/messages. There are numerous other collections like cinema, cyanotypes, women and etc. Eventually they'll all get sold or donated when I stop learning from them.
"I've primarily sold privately and at shows across America, but I have sold a lot overseas through the internet. Actually 60-70% of my online sales go overseas. I also sell to a few libraries and museums. I'm in the process of moving back to Detroit, so it's likely I will explore the Midwest more. I'm going to help run an art gallery which will include vintage and antique works of art. So hopefully business will walk in the door."