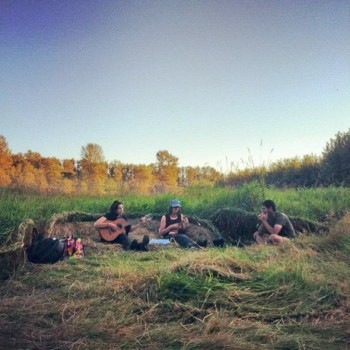 It was just about a year ago I attended my first LoFi Arts Festival at the Smoke Farm in Seattle, Washington. Ever since my days at the Rhode Island School of Design, stumbling upon art installations by various students scattered around the city, I have had a love and appreciation for site specific art. There is something special about discovering a piece immersed so carefully into a setting as if it always existed. I am particularly fond of installations that speak to their environments and ephemerality; works that require no dismantling because they simply fade away or silently become one with the earth again.
I first met Sarah Kavage volunteering for another creative collaboration she was spearheading Last Chance Travel, a real life interactive piece on the what-ifs and impacts on travel due to climate change. I knew she was exhibiting at the LoFi Arts Festival but I wasn't sure exactly what it would be. I believe it was dusk when I heard angels singing and found myself in the midst of a playful and wavy grass maze. Sections opened up into wider spaces and boundaries created resting places. Here a group of musicians had gathered to perform amidst the woven braids. We sat cross legged in the grasses and listened to the birds and lovely voices of the Lonely Coast singing to the setting sun.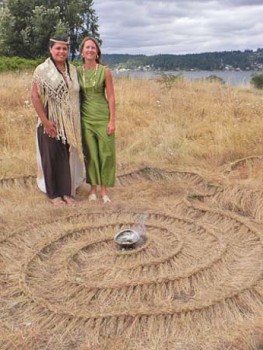 Sarah Kavage collaborated with artist Adria Garcia on the Braided Grass pieces. I interviewed Sarah to learn more about how it all came to be:
What inspired you to create the woven grass installations?
Smoke Farm, a 360-acre property along the Stillaguamish River in Arlington, WA (about 2 hours north of Seattle).  They have a yearly art & performance festival there called Lo-Fi, and the first year I was in the festival I was completely taken by all the incredible fields of tall grasses there.  I wanted to make something sculptural with the grass in the field, but it had to be really simple as there wasn't a lot of time for install and I didn't have a way to experiment with techniques beforehand.  So I just began thinking of grasses as the hair of the earth and ended up making a single, very long French braid through a section of the field.  I loved how it had this strange and mysterious and sort of spine-like quality – it was beautiful, earthy, and a little bit gruesome.  Since then the forms have evolved a lot, but braiding is still the core technique we use. 
When did you and Adria first meet and when did you decide to collaborate together?
Adria and I met in 1999, not long after my husband and I moved to Seattle, and we have been close friends ever since.  When I made the first braided grass pieces in 2009 & 2010, Adria was really excited about them.  She grew up on Oahu and as a kid she & her friends braided palm leaves and grasses in their neighborhood – and she's a stylist, so fashion and hairstyles are her language.  Growing up in Hawai'i really shaped her attitudes towards the land and the environment, so she really got what I was doing on a deeper level as well.  Working together seemed like a natural fit, so in 2011 we collaborated on a piece for the Smoke Farm Lo-Fi festival.  It was pretty much a mind meld and we've been weaving together ever since.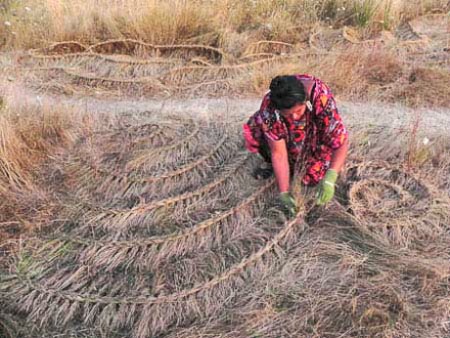 How has the project evolved?
It has become about much more than the formal, sculptural element of the work.  Ever since we started working together we have been exploring how these pieces can function as temporary public space, performance space, or ceremonial space.  It's all tied to this idea of caring for the land.  We see what we do as honoring a place, and performance is just another way to do that.  The visual, ceremonial and performative elements together connect this work to traditional land-based cultures; we like that we are presenting sort of a contemporary interpretation of something that's been going on for millenia.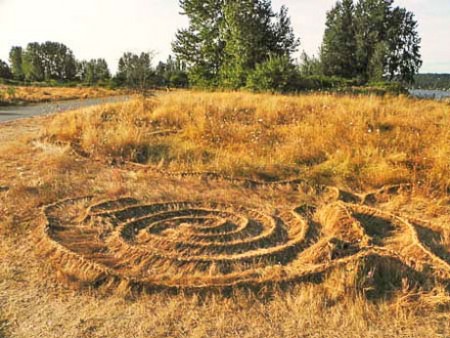 When and where is your next installation so readers can make plans to attend?
Check out www.studiokabuya.com this summer for updates and info on all our events.  We'll be at Smoke Farm again – the 2013 Lo-Fi festival is Aug 24-25.  Get your tickets now!  It's one of the best summer events in the northwest. We also just got a grant from 4Culture (the King County Arts Commission) to create a piece down in South King County (south of Seattle) this summer / fall.  This just happened, so we haven't figured out many details yet, but it's probably going to be at the Green River Natural Resources Area – a 300-acre wildlife preserve alongside the Green River in Kent.   
I loved the 'music room' that happened at Smoke Farm last year, it felt very spontaneous. Will you be inviting more performers to enliven the woven rooms?
Yes, definitely!  For KABUYA last year (the installation at Magnuson Park) we put a whole program together that was based around the land and the seasons.  Adria's dad, who is Taino (Caribbean Native) did a blessing for us, and we had some other incredible performers – poets, musicians, dancers – adding their own interpretations, some modern and some traditional.  For Smoke Farm this year we are working on doing some programming in the space, and for the King County installation as well. 
How have your installations been received?
People are really surprised and delighted by them.  For the KABUYA piece in Magnuson Park last year, there was tons of walk-by traffic – it's a pretty popular park in Seattle.  We weren't sure how we would feel about the constant interaction, but it ended up being great.  People were so encouraging and nice, which helped us keep going on those long hot days of being bent over in a field.  We had some regular visitors who would come by day after day to check on our progress, chat, and bring us snacks, which of course we loved!
Magnuson Park has a lot of bird habitat, and people are (fortunately) very protective of the natural areas there, so we waited to start working until after bird nesting season. The park "regulars" really recognized and appreciated the fact that we were making something gentle and non-intrusive.
Tickets to the LoFi Arts Festival can be purchased here.  Be prepared for a day of fun, relaxation and discovery. And don't forget your camera!