I've decorated and organized my home with trunks, vintage valises, and makeup cases for years – purposefully surrounding myself with tangible reminders of the promise of travel.  I love purses and bags too; always have – always will.  Feel the same?  Then the Roma Camera Bag Insert and Organizer by ONA is for you.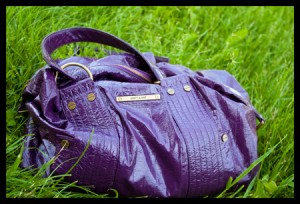 Take a quick guess at what's pictured above. Is it a fabulous violet purse?  A serious-minded camera bag?  Will it surprise you when I tell you that it's both? Hidden inside this purse is the Roma Camera Bag Insert and a surprising amount of my camera gear.  How cool is that!?  The small, brilliantly designed camera bag insert cum organizer by ONA has certainly been a delightful surprise for me to work with – from purse to lap top bag to gym bag and back again, my equipment has been well protected and easy to get to.
The bag arrived wrapped in soft tissue paper and included a thank you card proclaiming: "Your new ONA bag or accessory is designed to complement your life and your style."  At first I was suspicious, after all, my life and my style tend to be big.  As I filled it with more and more gear, however, I quickly changed my mind.  I was surprised to find that all of my essential equipment fit well.  Over the next few days I used the Roma in a variety of  bags that I favor on a regular basis.  Although the magnetic snaps are a tight fit and it takes a moment or two longer than I'd like to fasten the top cover, this brief annoyance is well worth the fuss knowing that the bag (and my camera) is well secured.
Fit: Room for your DSLR with attached lens and (depending on lens sizes) one additional small lens or accessory; also features five exterior pockets.
Anna at ONA has the following to say:  "We think it's a perfect accessory for photographers and photo enthusiasts who need a quick, easy, and effective way to transform a favorite non-camera bag into a protective space for camera gear."  I agree – the Roma is not meant to replace your primary camera bag, but it is perfect for a day of street photography, a weekend trip, or an evening in the city.  When not in use, it's a great way to organize and store your extra gear.
Pictured below: Canon DSLR body with 28-135mm lens (attached) plus a Canon Speedlight and two small LensBaby lenses.  The pockets are filled with batteries, a circular polarizing filter, some model release forms, a comb, my lipstick, a lens cap, a body cap, a small notebook, and a tiny bag holding several compact flash cards.
Review: [rating system = 1-5 with 5 being excellent and 1 being poor]
Sex Appeal: This relies heavily on your own taste in sexy bags.  For me and my purple bag, it's a solid 5.
Sport Appeal: Again, this depends on your taste in bags.  It worked great in the bottom of my gym bag.  [5]
Day-tripping: Perfect! [5]
World-trekking: Not recommended for your month-long trek thru Guatemala, your next big wedding, or your trip around the world. [1]
Wearablility & Comfort: It definitely weighs down your bag.  I found it was most comfortable to use with bags with wide handles or backpacks. [3]
Dimensions: 10.5"L —7"H—4"D
Price: $59.00
Price-to-coolness ratio: [4.5]
Comments from women: 100% positive – lots of gushing over the simplicity and effectiveness of the design and lots of gleeful testing in a variety of purses and bags.
Comments from men: 100% positive – many liked the two brown leather side straps (see side detail shot below), which make it easy to lift the insert in and out and also make it look classy.
Drawbacks: It takes several fussy moments to fold over the lid and fasten it in place.
Highlights: Leather straps for easy removal.  Internal fabric-covered adjustable divider.  Five pockets of variable sizes.
ONA on Twitter: @onabags (http://twitter.com/#!/onabags)
ONA on Facebook: http://www.facebook.com/onabags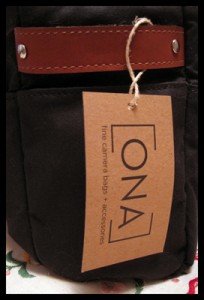 In joy,
Melinda
View more camera bag reviews! Click on the "Reviews:  Camera Bags" link under "Categories" at the top left of this page.
p.s.  The violet purse pictured above is a MATT and NAT bag.  MATT and NAT make truly gorgeous vegan handbags and accessories made primarily from recycled plastic bottles: www.mattandnat.com.