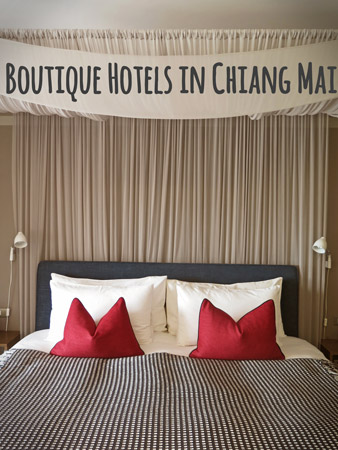 One of the best things about accommodation in Thailand is that there are so many options. From $3 dorm beds to luxury 5-star suites, there's definitely something for everyone…and a surprising amount of 'nice' places that are still affordable even on a backpacker budget. Yes, you can always pinch pennies here and make your dollar go a long way (I mean, there's $1 cooked to order meals everywhere!)…but that's also one of the reasons you should take advantage and splurge on a nice place every once and a while – you're money goes further so you can afford more than you would be able to at home.
I've written before about some of the coolest hostels in Bangkok and wanted to share some of my favorite boutique hotels in Chiang Mai that fit any budget.
Also check out: Hotels not on Khao San Road
Villa Duang Champa
This light and airy hotel is housed in a colonial Thai-style building in the center of Chiang Mai's Old Town on the popular Sunday Walking Street. Rooms are clean, spacious and simple yet still have special decorative touches and a slight hipster-feel to them. There's also a welcoming outdoor dining and lounging area and yoga classes onsite.
Cost: Rooms run around 1,000 – 2,500 baht
Location: 82 Ratchadamoen Road
Tha Pae Boutique House
Off of Tha Pae Road close to the city's main tourist center, Tha Pae Boutique House is part guesthouse, part boutique hotel with individually decorated rooms featuring a distinct Lanna (northern Thai) feel.
Cost: Rooms start at around 1,200 baht
Location: 4 Tha Pae Road Soi 5
At Nimman Hotel
Situated on a little soi (street) in the trendy Nimmanhaemin neighborhood near Chiang Mai University, At Nimman Hotel is a little more pricey than Villa Dunag Champa, but puts you right in the middle of all the night time hotspots. Nimmanhaemin is known for its numerous bars, coffee shops and restaurants, and while still visited by tourists, is a popular place to see and be seen by Thais. The hotel has an exotic feel with decor inspiration taken from the Himalayas.
Cost: During the high reasons room run from about 3,500 – 7,000 baht
Location: 37 Nimmanhaemin Soi 9
Sala Lanna
On the higher end of things is the lovely Sala Lanna located along the river on the east side of town. Part of a small hotel chain with properties across the country, Sala Lanna is a relaxing escape from all the motorbikes and tuk tuks rushing by. The hotel's contemporary, minimalist design (pictured above) combines modern design with traditional Lanna touches and plenty of light. There are also two restaurants onsite serving some of the best Thai and Italian food in Chiang Mai – the khao soi is incredible!
Cost: Rooms go between 3,000 and 23,000 baht
Location: 49 Charoenrat Road

Have you stayed in any boutique hotels in Chiang Mai? What did you think?
Note: I was a special guest of Sala Lanna but all opinions and recommendations are my own and you can read my full review of the property here.