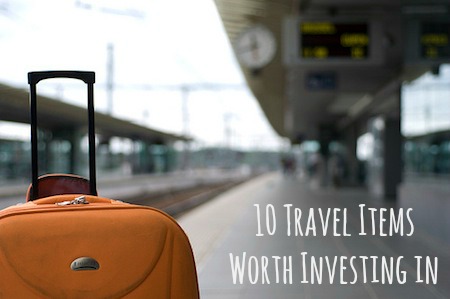 I've never been one to spend much money on 'travel-specific' items. I don't own packing cubes, refillable plastic bottles or even a money belt. It annoys me to buy things that only have one purpose or that are marketed for a very specific use, when I can use things I already own or don't really need the item in the first place.
Whenever I've traveled long term I've also been on a tight budget and wanted to spend my money on the actual traveling and experiences part – not stuff. That said, there are a number of things that I think are important and worth purchasing before your trip. Some are pretty cheap but irritating to spend your money on, and others are more expensive but worth investing in since they will last a long time and save you money, and hassle, down the road.
Also check out: What to Pack | WanderGear for Every Purpose
10 travel products for women that are worth it
High quality luggage or backpacks
My boyfriend and I had a luggage problem recently. We went on a three-day quick trip…and during that time went through three bags. The (old) small backpack and messenger bag we took with us both had straps break and the backpack started coming apart at the seams. While I (barely) pinned together the backpack with safety pins, we found a reusable grocery bag to carry some of our extra stuff. That fell apart too.  By the end of the three days we were hobbling to the bus station with most of our things in plastic bags. It was a hassle. If we had taken a better-made, larger backpack we probably wouldn't have had the same issues. And that was just for a long weekend. If you're traveling longer, you don't want to be stuck with luggage that's disintegrating or not functioning (think broken or stuck zippers!). Spend the extra money to get something that should stay together longer and fit what you'll be taking better.
Camera
I had a friend come visit me in Chiang Mai who didn't have a camera. I don't think people should be constantly snapping from behind their iPhones or massive DSLRs…but you should have a camera. And those photos help your trip last longer as you're able to enjoy them long after you're back home.
Universal power adapter
It's not fun spending your money on a power plug. I could think of a million other things I'd rather buy, but having a power adapter, like this one, that will fit at the different countries' outlets is a time, and stress, saver.
Good shoes
Good, comfortable shoes that fit well are key. That doesn't mean you have to go around your whole trip in sneakers though. I usually take a pair of sturdy, closed-toed walking shoes, but I also always have a pair of 'regular' shoes, or flats. Traveling puts extra wear and tear on your shoes – investing in pairs that are better made for comfort and support is a smart move. Tieks are my new go-to shoe to pack. They don't take up much space, in fact you can fold them into themselves to wedge in your bag, they are light and are surprisingly supportive for a ballet flat. Starting at $175 they're not cheap, but are better for my feet and more durable (I'm currently testing them riding a motorbike in Thailand…) while still stylish.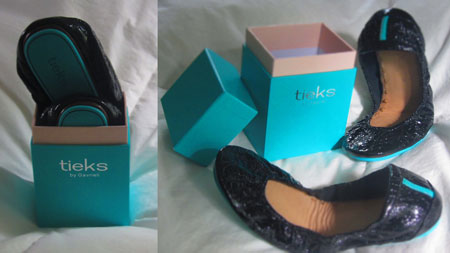 A black dress
To go with those comfortable shoes, find something that's stretchy, doesn't wrinkle and could be worn for a number of occasions. Consider a dress that doesn't have too low a neckline and covers your shoulders to make it more versatile – you could wear it out or to a temple.
Skype credit
Even if you plan on using Skype for computer-to-computer calls or use FaceTime, buy some Skype credit before you leave home to be able to call real phones. If you have to get a hold of someone and they're not online, you'll need to call their phone directly and if you're already in another country sometimes there are issues with making the online credit card transaction to get credit…trust me, it's happened before.
Yoga leggings
Do you need to spend $100+ on pants to do yoga in? No. But it is good to have some high quality black leggings that are comfortable to travel in, can be worn simply as leggings or as workout wear, won't stretch out even after months on the road and, thanks to the moisture wicking material, leave you nice and dry in hot and humid countries. I like these.
Travel insurance
I wouldn't bother with travel insurance for smaller trips, but for longer jaunts look into different packages to cover unexpected plan changes (or cancellations), health issues and accidents. You never know what's going to happen and, at the very least, it will give your mom some more peace of mind.
SteriPen
If you're going to be traveling for a while in an area without clean drinking water consider taking your own sterilization kit with you like the  SteriPEN Traveler Handheld UV Water Purifier
. For $50 you'll be sure to have clean water, won't be going through plastic bottles and will save money instead of having to buy water multiple times a day.
Alternative to tampons
Menstrual cups, like the Diva Cup, are a bit of cash up front, but you'll save money when you don't have to buy new disposable tampons or pads anymore.
Want more packing tips? Check out these posts:
Note: Tieks generously gifted me my first pair of flats, however all opinions are my own.
Photo Credit: Creative Commons (Strange Luke Photography)