Are you getting ready for a big trip?  Dreaming about flying away to discover somewhere new?  Looking for tips, destinations or inspiration for your next holiday?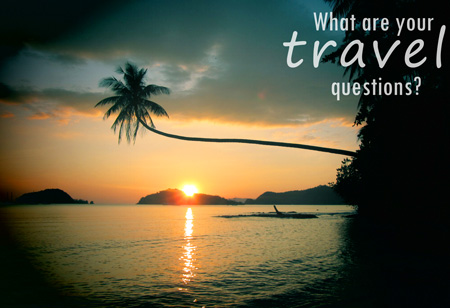 What are your travel questions??
While I have a lot of travel experience, I always have new questions swirling around in my head, and mainly they're about how other people do things.  What flight search engines do other people swear by?  What are their packing tips?  Do they check in their luggage or always carry-on?  How did they save for a trip?  Where did they find the time to go?  How do they manage their banking while abroad? Do they learn the language of where they're going?  Hearing what other people do on a personal basis helps me so much more than reading tips and round ups from larger travel outlets and magazines.
Now I want to know…what do you want to know?
What are your questions and concerns when it comes to traveling?  What do you want to ask someone personally about their experience instead of searching through endless forums online?
Let me know in the comments below or via Twitter (@alana_morgan) – I'll respond to them the best I can and bring other travelers into the mix to answer what I can't!