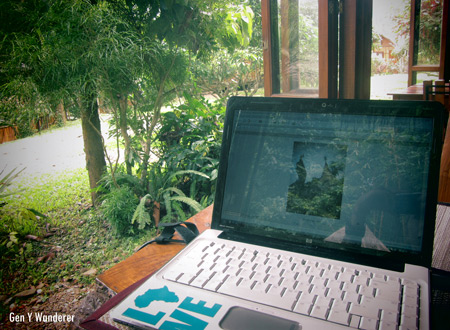 It can be difficult to get into a traveling mindset when you've been at home for a while surrounded by the same activities and people that make up your daily routine. Really difficult. When I'm on the move or living in Chiang Mai, I'm surrounded by people who are doing the same—traveling around, constantly going away for the weekend, living in a foreign country—and there's a general understanding and support for doing the same. When you're not surrounded by that it's easy to forget that way of life and that traveling is an option.
If you don't have the support and encouragement at home, you can get it elsewhere. Travel blogs are the best way to get that inspiration and kick in the pants for buying your ticket—especially when they're coming from girls just like you.
Below are some of the best travel blogs from 20-something female travelers. Some are flying solo, some are expats and others are traveling with friends, family and significant others. All are great at sharing their worlds and how the make travel work for them—indefinitely. If you're needing some extra inspiration check out these sites of other Gen Y wanderers:
Twenty-Something Travel – With a name like that, Stephanie has to be on this list. You can also buy her e-book chronicling her jump from the 9-5 to full-time travel (and meeting the love of her life!).
C'est Christine – Christine has lived abroad in France and Australia, backpacked solo in Southeast Asia and is now proving you can have a full-time job and 'settled' life while still seeing the world. From weekend trips to long jaunts, like Jordan and Iceland, she's mixing 'real life' with ambitious travel.
Mapping Words – Sarah describes her blog as appealing 'to long-term travelers, slow travelers and expats who have immersed themselves in a foreign country and have made quality connections with people and place abroad.' She goes beyond the what-to-do/where-to-go and looks more at the people, language and culture of a place—something I'm really drawn to and try to do as well over at Paper Planes.
The Great Affair – Though her photos are beautiful, the real draw of Candace's site is her simple, yet striking travel sketches that make you want to pick up a pen and paper instead of a camera on your next trip.
That Backpacker – Audrey has traveled around the world and recently was living in Korea teaching English. Now she's on a XXX tour of Southeast Asia with her travel blogger boyfriend, Nomadic Samuel.
The Young Adventuress – Liz has been to more than 30 countries, traveling through some and living long term in others, and is now in the process of moving to New Zealand.
Ashley Abroad – Ashley, as she puts it, 'at the age of 21, three weeks after graduation, I called it quits on normal and moved to Paris.'  I wish I had done the same…
Anywhere but Home – Naomi is a 'occasional expat and permanent nomad' always on the move and sharing it through her gorgeous photography.
Christine in Spain – Christine (another Seattle-ite!) has been living in Spain the past several years and digs deep into the country's culture, expat living and FOOD!
Alex in Wanderland – If you're interested in soaking up island sun and diving, this is your girl. Alex is currently in Indonesia and always has some great underwater photos to share. (I'm scared just to put my head underwater…)
Expat Edna – As her blog name suggest, Edna is a serial expat balancing a full-time career and long distance relationship. (It can be done!) Catch up on her stories about Paris before she announces where she's off to next.
Adventurous Kate – One of the most well-known blogs for solo female travel, Kate has been 'Laos to Liechtenstein' and always has a new trip or project coming up.
Travel Yourself – If Cailin doesn't get you pumped for travel, no one will…
These are just a few of the MANY blogs out there curated by 20-something female travelers.  Interested in a certain region?  Want to WWOOF?  Looking to study abroad?  You can find other young women doing exactly those things and writing about it for continued inspiration and that extra boost to stick with your travel plans when everyone else may seem to be dismissing your dreams.
How do you keep your travel dreams alive when at home?  What are some other travel blogs you follow? Let me know in the comments below!