Everyone wants to know how to save money for travel.  In my last post I shared how I've personally been able to stretch my dollar and make my savings last while traveling and living abroad for two years.  Today we're going to look at some more ways to manage your money – before, during and after – your travels.
Before you can get here, you have some saving to do…
Before You Leave
Save money – obviously.  But how?  You've heard all before, it's just about having the discipline to actually put it into practice.
Cut back on unnecessary expenses like extra clothes, happy hours, snacks and outings.  Those morning lattes add up quickly even in your home country, but especially if you're going somewhere where your dollar goes further, those little purchases really impact your savings –  $4 a day can get you full meals, bus rides and even a night's lodging in some places!  Now, is it worth getting the cup of coffee everyday?  Also look at monthly expenses you can cut down on – cable or phone bills, gas, gym memberships…is there anything you can cut out for a cut while?
Create a separate space for your travel savings.  This can be a new savings account or simply a jar – but once the money goes in, it doesn't come out until your trip.  Also consider automatically setting aside a certain percentage of your monthly earnings toward your travel fund.
Try picking up an extra job.  Everyone is busy enough as it is, but again, if you're able to pick up a few more dollars throughout the month, they can go a long way somewhere else.  Maybe it doesn't have to be a part-time job, but are there opportunities you can find to make a little extra cash?  Perhaps working on the weekends every once in a while for a venue or catering company, babysitting, or selling your services online.
Sell what you don't need.  Any extra clothes, furniture, appliances, electronics…try selling them at garage sales, online or look at company trade-in programs (like Amazon or H&M).  All it takes is some time and effort to go through your things.
Decide which credit and ATM cards will be best to take with you.  If you're going to be spending a long time in a country where cash is king, like in SE Asia, you're going to want an ATM card with low or no international transaction fees, like this account from Charles Schwab.  If you'll be using your credit card for big purchases (flights) and throughout your travels, check to see what it's international fees and rates are.  The Venture Rewards cards from Capital One (U.S.) are great with no international processing fees.  Depending on how you're traveling, you may also look into opening up new rewards cards for the points, cash back or miles.
Set savings goals – and meet them.  Have a clear idea of how much money you want to save and for what.  Then, look at your current budget and what your usual spending is like.  Where can you cut back?  As I've mentioned before every little bit counts.  Really.
Once You're There
When you're on the move you're also constantly spending on…everything.  Your days include regular stops at the ATM, with no money coming in, and it really feels kind of strange.  It's also easy to slip into a habit of getting lazy with your withdrawals and your savings – you're on vacation!  This foreign money is like play money!  This is the time when you need to focus on your budget and getting the most out of it.  How can your money go further?  A lot of this will depend on where you're traveling to; naturally London is going to be more expensive than Bangkok no matter how you do it.  But there are still ways to be aware of your expenses.
Track your expenses.  This doesn't have to be difficult or take a lot of time.  In fact, it could be as simple as taking out the cash you've budgeted and making it last a planned amount of time.  You don't necessarily need to keep track of exactly what you spent on food, transportation, etc. if you can see the physical amount of money you have.  (This wouldn't necessarily work for a whole trip since you wouldn't want to carry a ton of cash on you, but is good for several days at a time).  Also check your money and cards every night to make sure nothing is missing.
Have a shared money pool.  Traveling with people?  Equally contribute into a shared pool then use that money to pay for anything where the costs are the same  or you'll be sharing, like accommodation and transportation.
Don't eat in tourist areas.  I could write a whole post on how to save on eating while traveling, but this is the big one.  Once in a while it just has to be done.  But often if you simply go one street over, whether you're in San Francisco or Seoul, from a tourist hub you'll find cheaper (and tastier) food.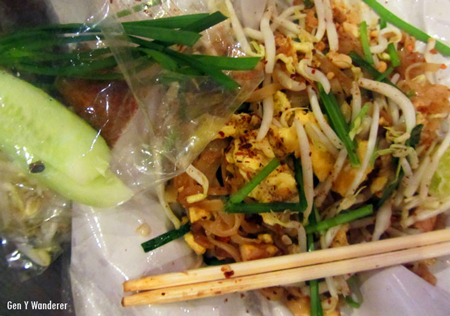 Fresh phad thai for $1.  In the tourist areas it can be up to three times as much!
Volunteer.  Make your money go a little further with a volunteering stint.  While you won't be making any cash, many volunteer opportunities offer free housing saving you money on accommodation while being able to stay in a place longer.
Get a job.  Want to stay longer in a place?  Look for work, like teaching ESL, or even make your own for a couple extra bucks.  Can you cut hair? Ask to put up a sign in your hostel letting people know you're services are available.
Get creative with accommodation.  Couchsurfing, AirBnB , hosteling and house sitting are all great ways to save money.  Couchsurfing is free, there's a wide range of prices and places on AirBnB while adding a more local flavor to your trip, hostels are stepping up their game (even rivaling some boutique hotels) while still providing great value and house sitting allows you to stay in areas longer than you may have if you were in a hotel.  Planning long travel times overnight will also help you save on a room while not wasting precious daylight hours stuck in a bus.
Limit souvenirs.  Think about who you want souvenirs for and how much of you're budget you're willing to set aside.  When possible, buy multiples of an item for a better deal or simply take pictures of what you're eyeing while not actually buying.  Also think of unlikely souvenirs – instead of buying new items, hold on to things from your trip, like tickets, to remind you of an experience.
Take local and ground transportation.  Cheaper than airfare and gives you more local insight to a place.  Also often an adventure in itself…
Night bus in Vietnam – accommodation and transportation in one!
When You Return
Remember those saving tips you put into action before the trip?  Keep them up to help refill your bank account and start planning for your next trip!
What are your tricks for how to save money for travel?