I'm leaving Thailand this week for an undetermined amount of time. (This is the part where I have a mini-anxiety attack…)  Though I will miss just about everything, cheap & delicious Thai food is pretty high up on the list (you know, along with this guy, and views like this and this).
I've eaten dishes you can easily find back in the States (though not near the same price!) like phad thai and tom kha gai…
Made to order phad thai
…incredible khao soi and fresh tropical fruits…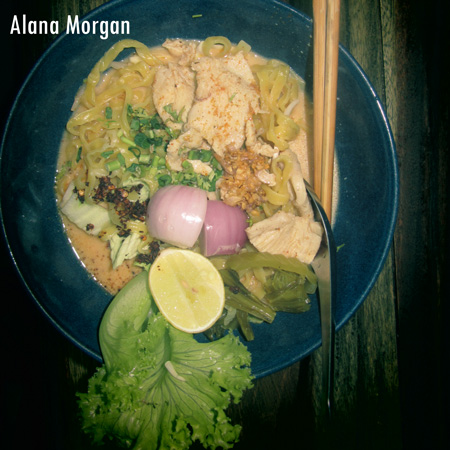 Khao soi…my love…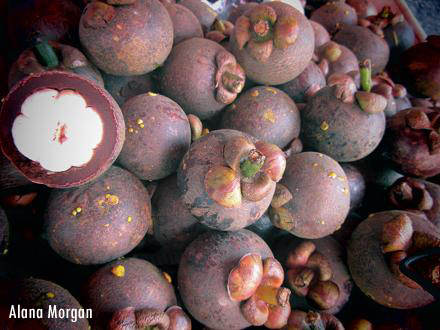 Magical Mangosteens
…easy Thai basics like khai jio (Thai omelette, often with minced pork), khao ka moo (slow-cooked pork leg over rice) and simple noodle soups….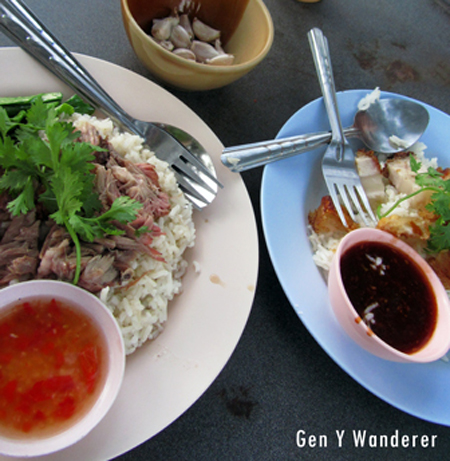 Khao Ka Moo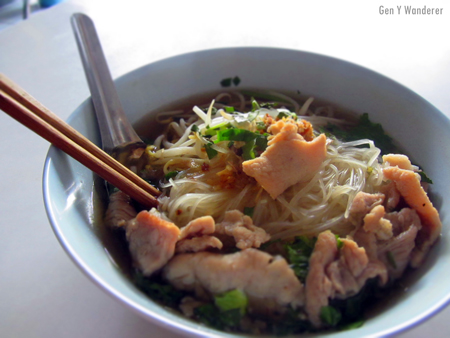 Simple broth with rice noodles and pork
…fried fish for breakfast…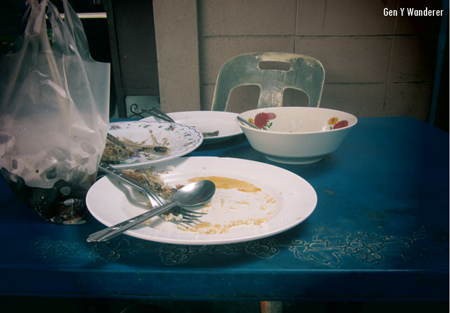 The remains of a healthy breakfast of fried fish, rice and Pepsi…naturally
…too many buffets and mugata (Thai BBQ)…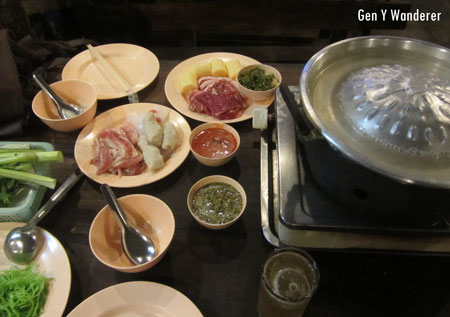 Fixins' for mugata
…then I've eaten stranger things, like yum khai yieow maa (black egg salad), goong che naam bplaa (raw shrimp) and congealed blood…
Yum Kai Yieow Maa = delish
mmm…blood
…and I didn't die
…all washed down with lots of cha nom yen (Thai iced tea with sweetened condensed milk), Leo Beer (my Thai brew of choice) and Sangsom (Thai whiskey)…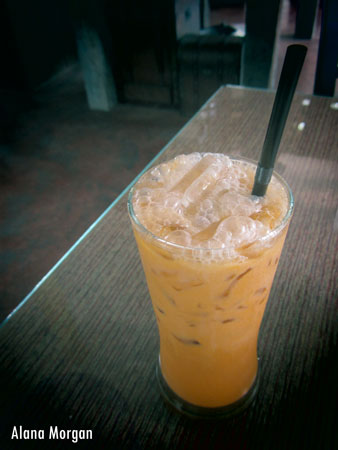 Thai iced tea
The infamous Sangsom…is it whiskey? Is it rum? Who cares, it's cheap!
…and sometimes finished off with a sweet treat like mango with sticky rice, a banana rotee (like a fried crepe) or bua loi (rice flour balls in warm coconut cream).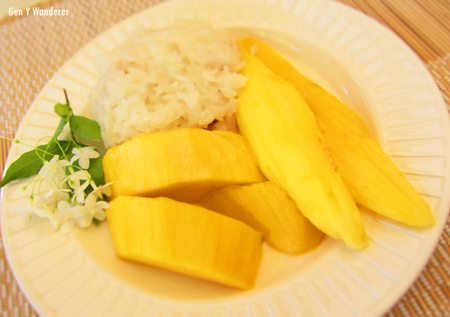 Mango and sticky rice – probably one of the best things you will ever try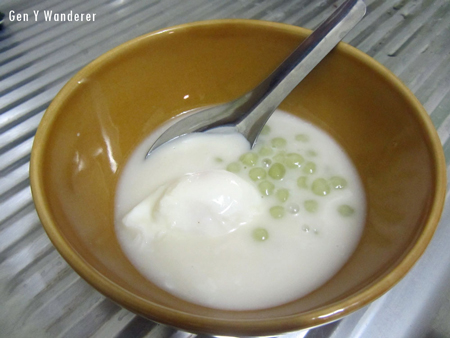 Bua loi – strange, but yummy
I've been completely spoiled by the choices and availability of tasty dishes made in seconds for a couple bucks.  I've eaten way too much sugar and oil and fried chicken and fish, but yet have not gained weight or (that's what happens when you're constantly sweating in the heat or having South East Asian tummy troubles).  I've taken cooking courses, had incredible dinners with about 100 ingredients made for me in my house, and found my favorite little spots to go for certain dishes.  While I'm looking forward to many foods from home and being able to use an oven for the first time in more than a year, it's going to take a while adjusting to the different eating patterns, foods, preparation and dumping fish sauce or crushed chilies on everything set in front of me.
Goodbye Thai food…
for now.