Chiang Mai is definitely on the tourist trail – and for good reason.  The city is a good jumping off point to explore the hills and jungles of northern Thailand, discover delicious, cheap food, enjoy milder weather and even pop on over to Laos.  It also is a major expat center, being home to many NGOs, foreign English teachers (the city has three major universities along with several international schools), missionaries and retirees.  In fact, U.S. News and World Report consistently mentions Chiang Mai as a desirable place to retire, even naming it one of 'The World's Top Retirement Havens'.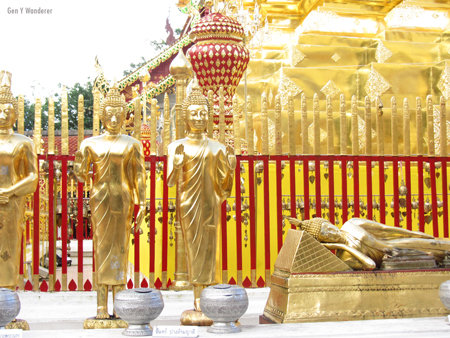 At Chiang Mai's famous temple, Wat Phra That Doi Suthep
While the guide books give you the lowdown on what to do here, there are several resources that will give you a more local perspective on the place with hangouts, directions, news and profiles.
This newly-launched site is producing an impressive list of places to go eat, drink and play in the city along with several insider guides, tips and suggestions like this and this.  The site is run by expats who want to create a resource for others who are living in and constantly exploring Chiang Mai.
The go-to English magazine for expats, City Life is published monthly featuring in-depth stories on Northern Thailand, personality profiles and expat news and events.  You can read the articles online and also check out the events calendar for updates.
With the language differences, it's often difficult to know what the heck is going on around here. Chiang Mai Mail is the first English language newspaper serving the north of Thailand.
This site is geared toward travelers, but written by local writers who really know the area.  There are also sections about living here with a service directory and notes on Thai culture.
Similar to One Stop Chiang Mai, Open Chiang Mai is a travel site produced by people who live in the area and includes sites, activities and news.  The site focuses on posting videos to better show you the places and things its talking about.