Phad thai, green curry and mango with sticky rice are all very good…but what about trying something else? Something you may have seen on the street, but don't quite know what it's called or how to order it.  Something that looks unidentifiable, but still intriguing.  Or maybe something that you've never even dreamed of…
More about Thai Food: Vegetarian Eating in Thailand | Khao Soi
Yen Ta Fo (เย็นตาโฟ) – Very pink soup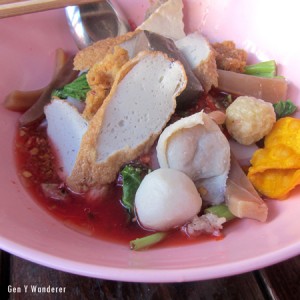 There are all types of noodle soups to be had.  You can choose thin noodles, wide noodles, yellow noodles, chicken, pork balls, shrimp wontons, red pork…the combinations are endless.  This one is very, very pink.  Yen ta fo (pronounced how it looks) comes with your choice of meat, morning glory, wide rice noodles and tofu.  The tofu has been preserved and is what creates the, sometimes shockingly, pink color of the dish.  Most noodle soups come lightly flavored and you add your personal mix of fish sauce, chilies, vinegar and sugar making it as spicy or as plain as you want, though yen ta fo is usually more sweet and sour.  Get it at noodle stalls from Krabi to Mae Hong Son.
Yum Bplaa-Duk Fu (ยำปลาดุกฟู) – Crispy catfish with mango salad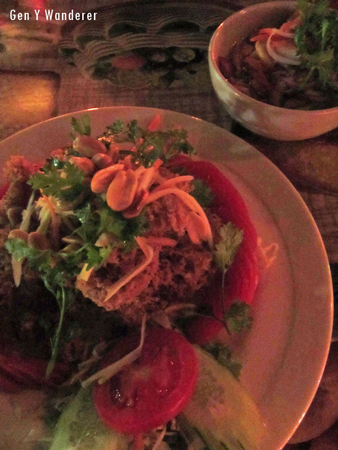 Looking for something different to go with that cold Chang?  With its unique mix of flavors and textures, yum bplaa-duk (as in duke) fu (as in kung-fu) is a great drinking food.  Light, flaky catfish is fried to perfection and served with a shredded mango salad, peanuts and tomato slices.  Order this dish at a Thai bar and nibble away.  Note: Yum bplaa-duk fu is best shared with others.  Get several dishes to eat together instead of eating a plateful of light, fried fish flakes by yourself.
Kai Yeow Ma Song Kreung (ไข่เยี่ยวม้าทรงเครื่อง) – Black eggs with a lot of other stuff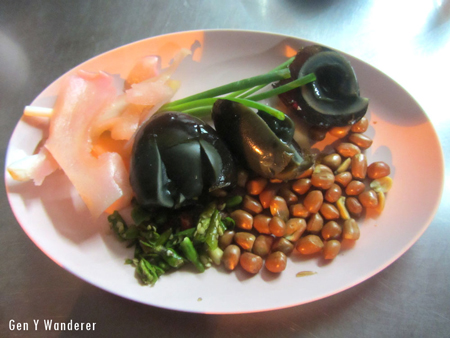 Known as century eggs, millennium eggs or thousand-year eggs, these preserved eggs first shock you with their pink shells and…black insides.  Kai (like kite without the –te) yeow ma song kreung (pronounced kroo-ung) is a type of Thai salad with chopped up pieces of the eggs, peanuts, ginger, onions, chilies and chili sauce.  Just looking at it for the first time, it's hard to imagine how these ingredients go together, but eaten together they turn into a mighty tasty mix of flavors and textures in your mouth.  Really.  Try it.  Put together the perfect bite with a little of each item and a spoonful of rice.  Look for a local restaurant that serves more Chinese-inspired dishes or has pink-shelled eggs in the window.
Khao Soi (ข้าวซอย) – Heaven in a bowl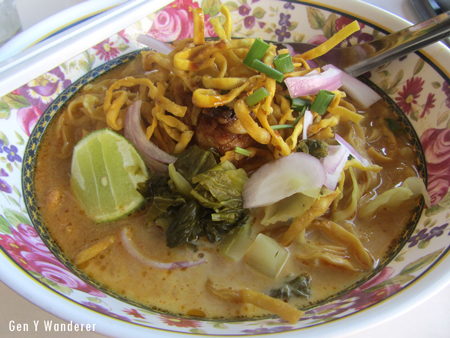 All Thai dishes are supposed to have a tantalizing blend of salty, sweet, spicy and sour flavors and khao (like cow) soi offers just that.  A northern specialty (get it when you're in Chiang Mai!), khao soi is a spicy, creamy, coconut curry served over yellow egg noodles and chicken.  The dish is then topped with crunchy noodles, diced onion, pickled cabbage and lime.  Normally you'll be asked if you want your khao soi spicy.  If you're worried about it being too hot for you, be sure to say, "mai pet" (not spicy), when ordering.  Khao soi can be found at street stalls and a variety of restaurants in the north.
Bua Loi (บัวลอย) – Rice flour balls in warm coconut milk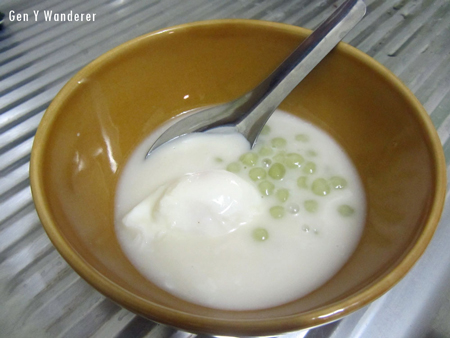 Literally meaning 'floating lotus', bua loi (pronounced boo-ah loy-ee) is a good dessert on a cool night.  While most Thai desserts are served cold, bua loi comes hot and is eaten with a spoon.  Little green balls made out of sticky rice flour and colored pandan leaves are cooked with coconut cream then served with a sweetened poached egg floating on top.  The combination sounds strange, but it works, and the warm, sweet-but-not-too-sweet coconut and pandan flavors are very comforting (similar to the taste of the sweetened sticky rice for mango and sticky rice).  You can find bua loi served at street stalls.  Don't want the egg?  Try saying, "Mai sai kai" (without egg).  Want to take it back to the guesthouse with you for a midnight treat?  Don't worry, just like everything else in Thailand, they'll spoon it into a bag for you.
Note:  This story was first published in South East Asia Backpacker Magazine.