A common question I get is where to go for good street food in Chiang Mai.
After being here for a year and a half, I've found my favorite stalls for certain food.  I go to a place near the North Gate for khao ka moo (pork leg and rice), another near the university on the east side of town for phad thai, and another for fruit shakes.  It's difficult to point out all these specific places for specific dishes to those unfamiliar with the city, and there is street food available everywhere day and night, but you can find several areas located throughout the city that have a concentration of street stall options.
More about Chiang Mai: Chiang Mai Boutique Hotels | About Chiang Mai
South Gate – This is the first place I direct people to since it's close to the center of town (and many guesthouses) and has just about everything you could ask for.  Noodle soups, stir fries, phad thai, fresh fruit, Thai donuts, pre-made curries, som tam, mango with sticky rice – dishes will cost you between 30-45 baht or about $1 – 1.50.  Go.  Now.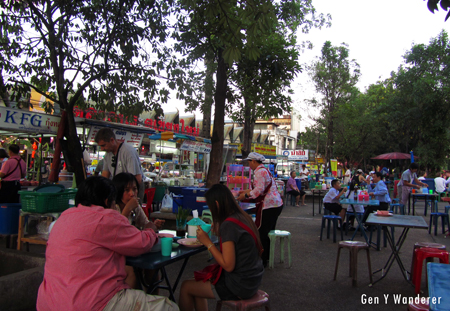 North Gate – On the east side of the north gate on the outer side of the moat (got that?) is another cluster of stalls and tables.  Look for the khao ka moo lady holding court, chopping up meat, and rocking a cowboy hat and a leather apron.
Khao ka moo
Back Gate of Chiang Mai University – On Suthep Road, heading toward the mountain, you'll find a number of nightly street stalls lining the back gate of the university.  There are a lot of noodle and Japanese stalls, as well as Thai sweets and snacks.  If you make it out this way (it's on the opposite side of town as many of the guesthouses), you'll probably be one of the only foreigners and get to soak up some more local culture and student life.  Along this road there are also many restaurants (slightly more expensive than the street stalls but usually by only a couple dollars) serving a wider variety of Thai and Chinese-influenced dishes.
Warorot Market – By day Warorot Market sells everything from fabrics, to clocks, to mangoes.  At night the main market shuts down and food stalls pop up, along with some clothing, accessories and electronics stands.  People come here more for take away food, as there's little seating and no cooked-to-order places.  There are a lot of grilled meat options, snacks, sweets, fruit, and pre-made curries, salads and soups with rice to piece together a meal to go.  From Tha Pae Gate.