This week we're talking with Drew Meyers, 30, who's combining his passions for travel, social media and tech by building the travel networking startup, Oh Hey World (currently in beta).  I met Drew last year while he was staying in Chiang Mai for a bit – this place attracts tons of online entrepreneurs and 'digital nomads' because of the low cost of living, free Wi-Fi and sun – after he noticed through our social networks that we had gone to the same university.  Oh Hey World is designed to make those connections more simply and straightforward – and let your mom know you landed safely.
Where is your current home base and why?  I don't really have one. At this point, I'm cycling between Seattle, San Francisco, and New York. Seattle because I have family and friends there, and San Francisco and NYC because they are the most vibrant technology hubs in the US.
How often do you usually stay in one place?  The last few years, my general trend was to go somewhere for between three weeks and three months. Of course, there were spots I stayed shorter periods. I can't travel the way I used to – moving from place to place every few days. Now I'm all about long term travel.
Do your friends and family understand/support you often being on the move?  Everyone is certainly supportive of my lifestyle, though many don't understand the entrepreneurial, global mindset. I think they've given up hope trying to reel me into "normal" life.
What gave you the idea for Oh Hey World and why did you decide to pursue it?  I actually just wrote a blog post on this exact question, so here's an excerpt – Ashley, Dan, Chris, Brooke, and I arrived in Santorini mid May and left early August of 2010. There were about 15 others between the ages of 18 and 24 who lived all summer on Perissa Beach with us – most worked at restaurants, bars, or hotels and just wanted to spend the summer somewhere other than home. The group consisted of a few Kiwis, Aussies, Irish, Canadians, and British. We had an amazing community of people to hang out with every single day. But let's face it. No matter how much you enjoy your friend's company, you want some variety every now and then. Sure, we met some awesome travelers who were in Santorini for only few days — but it was just those who we happened to meet at Atlas, Beach Bar, or by walking across the street to Youth Hostel Anna and drinking with the people outside. I guarantee there were some awesome travelers who visited Santorini in the summer of 2010 who had a lot in common that I never met for no other reason than I didn't know they were there.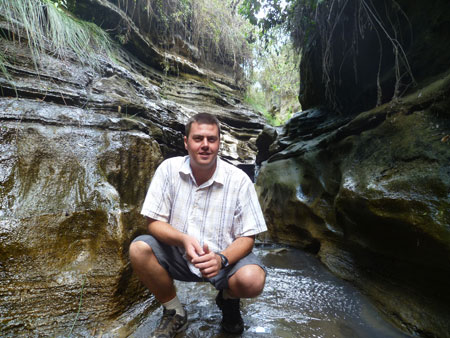 Hence the idea for Oh Hey World was sitting in the back of my mind the entire summer… Wouldn't it be amazing if there was some way to get notified when like-minded travelers arrived in Santorini to share a beer, sunset, or meal with?  Santorini is certainly my favorite place on earth — and, no surprise, it's because of the people I went with and those I met while there. Yet it could have been even better if there was some way to meet fellow travelers who had common passions, interests, or experiences.
Quick summary of the site:  Oh Hey World is your inside travel connection. We give you one dashboard to follow the travels of all those close to you, including friends and family, people your network recommends you meet, and people with shared experiences/passions — with the goal of receiving tips & advice from trusted sources & meeting relevant people in every city. Keeping track of your network shouldn't require a spreadsheet.
How old were you when you made your first big trip or visited another country?  I was 22 when I made my first trip abroad to Europe. The first stop was London, and proceeded to visit 13 countries over the next two months. As you can tell, I haven't looked back since.
Where has been your favorite place to travel?  Santorini followed by Kenya.
Least favorite?  Nice, France. I think I just had a bad couple days because I have heard so many great things about it from others. My friend and I came across blood on the sidewalk right by our hostel and in general just didn't have much fun there.
Best music for long bus rides: Red Hot Chili Peppers
Why do you think it's important for our generation to travel?  It opens your eyes to the realities of the world around us, and forces you to think about priorities in life outside the lens of the American media. If you never set foot outside the US, you're living your life in a shell. There is certainly something to be said for ignorance is bliss, but I can't live that way. I wrote a blog post about this several years ago, which is certainly still relevant today – http://www.thecausemopolitan.com/the-impact-of-traveling-abroad/
Do you think the idea that Millennials are lazy/slackers/commitment-phobes is true?  Why or why not?  Yes, absolutely. I've seen too many people who think succeeding doesn't and shouldn't require work. Everyone wants to get to the end goal, but doesn't want to put in the work to get there.
One travel tip:  Go somewhere abroad solo for at least two weeks. It'll be the best decision you ever make.
What's something you wish you had known before you started creating Oh Hey World ?  I don't think I have a good answer for that. I'm fortunate in the fact that I saw a very large technology company (Zillow) grow from pre-launch to 13 millions users a month from the inside, so I have a good sense of what it takes to build a technology company.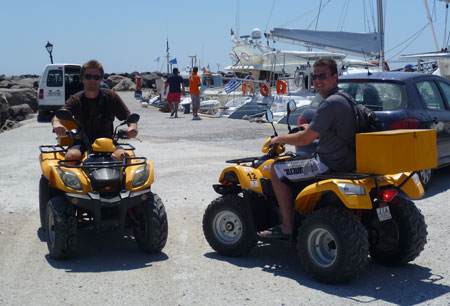 What is the most important thing travel has taught you?  That we live a very privileged life — and we need to be grateful for that and leave this world a better place than when we entered it. I have grown to love the quote that I first heard from Will Smith, "If you're not making someone else's life better, you're wasting your time".
What do you think you'd be doing right now if you weren't building your business?  Probably living somewhere in Southeast Asia without a care in the world.
Want to learn more about Oh Hey World?  Go to http://www.ohheyworld.com/ or check out Drew's blog here.