No matter how often you travel, it's always difficult to accurately gauge what you will need to pack and plan ahead for.  Sure, you start figuring out what little tricks work for you, what items you can't live without and what things you won't miss, but you still always question what to bring and what to leave behind.  You don't want to over pack and haul weight around that you don't need, but you also don't want to get stuck in a situation where you need something and can't find it anywhere.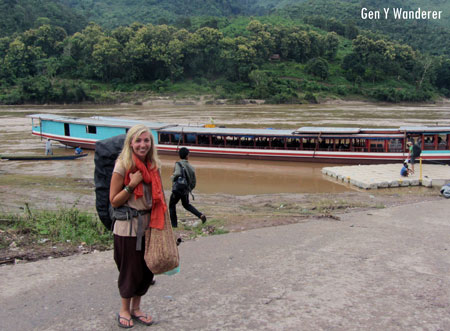 Backpacking through Laos
When it comes to traveling around South East Asia there are a handful of things I would definitely recommend bringing from home and several that you can do without.
Ultimately what you should pack depends on the type of trip you're taking.  The list and tips below are what I would tell a friend coming to South East Asia for the first time.  They're by no means exhaustive – I'm not telling you how many pairs of underwear to bring – but are the things that stand out to me after living and traveling through the region for nearly two years.
More about Southeast Asia: Thailand's Best Sights| Thailand Travel Tips | Shopping in Bangkok
CLOTHING
Generally speaking, bring light, loose cotton clothes that you don't mind getting lost, dirty, or stretched out.  You also don't need to bring too much – it's warm to very hot all year round which means, while you should keep modesty in mind, you probably won't be wearing very many clothes.  Laundry is also cheap – about 30 baht (just over $1) per kilogram – and easily accessible so you can have your clothes cleaned as regularly as needed.
If you do need new clothes you can get everything from cheap, cotton shirts and pants at the streets markets to tailor-made suits and dresses made-to-order in a day.  Err on the side of not packing enough clothes and pick up anything you may need while traveling.  Do keep in mind however that sizes here are different than 'Western' sizes, i.e. usually much smaller.  I wear small to medium shirts at home and here I've immediately been given larges, even extra larges (some fit and some were offensively to big…).  If you have a larger build it may take a little more searching, but is still doable.  The exception might be for jeans, which I wouldn't bring anyway – I only wear jeans now after being here for a while and being a little more used to the weather.  A couple items to definitely have:
Sarong/scarf – A must-have for absolutely any trip!  These  can be used for just about everything from towel to temple cover up.
Bandana – It's hot here, and often uncomfortably so if you've just arrived.  Bring a bandana or small scarf that you can soak in cool water and keep around your neck as you're walking around in the sun all day.
More skirts/dresses instead of shorts/pants – Two words: air flow.
Light rain jacket – Just in case.
Sweatshirt – Yes it's hot, but that means places (especially airports and buses) like to turn up the air con.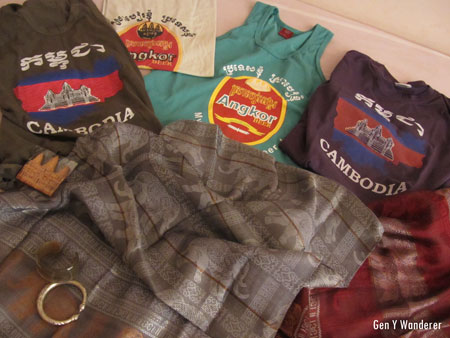 Shoes
Shoes are always tricky.  Think about the type of trip you're planning – if you want to do a lot of outdoor activities like trekking or cycling bring appropriate sneakers or boots.  Otherwise, I wouldn't bring any tennis shoes (I still rarely wear mine).
You do need a comfortable, sturdy pair of strapped sandals or a pair of shoes that you can easily slip on and off like Toms.  You'll be asked to take your shoes off before entering many buildings and don't want to be stuck untying and retying laces every time.  Buy a cheap pair of flip flops here for beaches, showers, etc.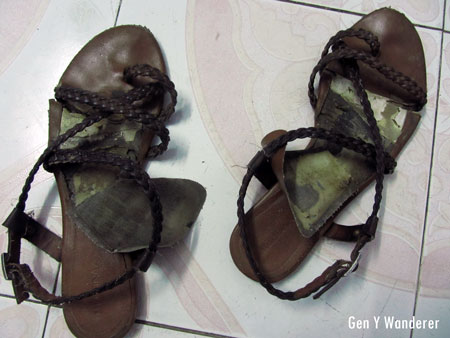 This is what happens to your shoes after three months of backpacking…
TOILETRIES
As with any trip, bring the specific toiletries or medications that you must have.  Other than that most things can be purchased if needed.
Sunscreen – Sunscreens are more expensive here as the tourists are the only ones using them and they're usually imported.  This is the one thing I would stock up on at home to save money. Prices go up even more near the beach.
Lotions/deodorants/face powders – Most lotions, deodorants and face make up come with skin whitening agents in them.  While you can find products without, they're not common.  In Thailand, even in touristy areas, little shops or 7-11 will only carry whitening deodorant.
Razors – Stock up on razor blades before you come.  Again, you can find some razors to shave your legs but you need to know where to look.
Tampons – For some reason they're not widely used here…just keep that in mind.
Baby powder – You can easily buy baby powder around South East Asia, so don't have to bring it from home, but definitely get some.  Sprinkle baby powder in your hair as a dry shampoo between washes to soak up oil and sweat.  It also is handy, and widely used, in South East Asia patted into your skin to lessen sweating.  (You'll see babies who are so doused in baby powder to stay dry in the sticky heat they look like they've been flour bombed.)
Hydro-cortizone/Tiger Balm – I would have gone crazy with itchy bug bites my first two weeks in Thailand if I hadn't had hydro-cortizone.  Cortizone helps with many bites, rashes, inflammations, dry skin and allergic reactions – basically all things that will probably happen to you while in a tropical climate.  I love Tiger Balm, and always carry some with me, for minor bites and to breathe in if I feel dizzy or nauseous from bus rides, exhaust or heat, but it doesn't always do the trick.  Bring hydro-cortizone with you and buy the Tiger Balm here.
*Note: If you buy toothpaste, make sure you don't get the SALT kind.  Bought it once by mistake and definitely learned my lesson…
EXTRAS
Computer/Kindle/iPod – Free WIFI is available throughout South East Asia, particularly in tourist areas.
Flashlight – Even in cities, the power is known for going out intermittently, especially in the rainy season.  It's also always just a good idea to have one on hand for emergencies, walking down to the beach at night or reading on that overnight bus.
Padlock and chain – Depending on the level of comfort you're traveling in – i.e. how much you can shell out for transportation and accommodation – bring a chain and padlock to secure your belongings, locker or door.
Rubber door stop – Again, depending on how much you're spending on secure accommodation, it's good to keep a door stop in your bag to shove under the door from the inside at night – especially if traveling alone.
Unlocked phone from home – If you bring a phone with you make sure it's unlock so it will work with the different countries' SIM cards and services.
Pocket knife – I always travel with a Swiss Army knife using it mainly for opening bottles and slicing fruit.  Buying a bottle of wine and realizing you don't have a bottle opener is the worst…
Sewing kit – If you get a major tear in your shirt you can buy cheap, new clothes everywhere…but they are cheap and prone to rips or holes.  Having a little sewing kit for minor fixes can really help extend the life of a piece of clothing or bag!
Towel – Many guesthouses do not provide towels, you just never know so keep one with you to be on the safe side.  Many people recommend traveling with a microfiber towel.  These are quick-drying, smaller and thinner than regular towels.  I however, have never had a good experience with them – after several washes they would begin to smell musty and not dry – so no longer carry one.  While it would be nice to save a little space in my backpack, I'd rather have a towel that works and that I can actually wrap around me.
Waterproof covering for your backpack or luggage – It always seems to start raining just when you're walking out of your guest house to go to the bus station.
Earplugs – I always forget these, but you shouldn't.  Overnight bus rides, barking street dogs…
Night bus in Vietnam
DON'T WORRY ABOUT IT
Mosquito net – Unless you're trekking out in the jungle completely by yourself…anywhere you stay that may need a mosquito net will already have one.
Plastic poncho – During the rainy season you'll probably get stuck in a downpour and need a poncho – don't worry about buying one and bringing it with you from home.  There will be more, and cheaper, options wherever you are.
Jeans – You're not going to want to wear them.
Phone – I know above I said to bring an unlocked phone, but if you're only wanting a phone for quick calls and emergencies just buy a cheap Nokia and new SIM cards for every country you go to abroad.  My current phone, SIM card and prepaid minutes were less than $25 to get all set up.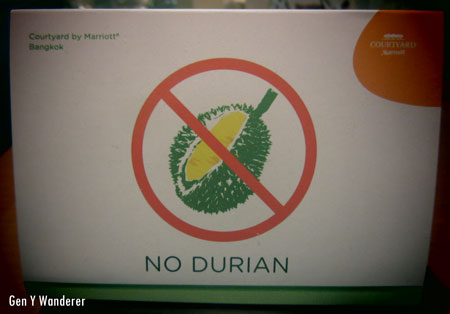 And remember – NO DURIAN
Been to South East Asia?  What did you bring and what did you leave behind?  Do you agree with my suggestions?  I'd love to hear your thoughts in the comments section below!
Heading to Thailand or other parts of South East Asia?  Check out my personal blog, Paper Planes, for an expat's point of view of living in the land of smiles…