While most people travel through South East Asia, Nikki Scott. 28, has set down roots as the publisher and editor of the region's popular magazine for backpackers.  Think starting a travel blog is the thing to do?  This girl created South East Asia Backpacker Magazine after falling in love with the backpacking lifestyle.  What started out as an idea printed off from a Thai photocopier has now become a 72-page printed glossy with more than 100 sponsors and 1,000 writers, as well as an online resource and forum supporting backpackers all over SE Asia with tips, stories, connections – even learning and job opportunities!
So how in your mid-20s do you move to Asia, start a successful magazine and continue traveling the world?  That's what I wanted to know…
Where do you call 'home' or where are you from originally?  Originally I am from the north of England, but I call Thailand my 'home' at the moment.
 How long have you been traveling/living abroad?  I have been traveling, living and working in South East Asia for almost four years – I have lived in Bangkok, Chonburi, Koh Phangan, Kuala Lumpur and Chiang Mai.
 Do you miss home?  What/why?  When I first started my business here, and it became clear that I would not be returning to England, I must admit that I missed certain aspects of my life back home; constant friends who've known you since childhood, familiarity, everyone speaking the same language and even a daily routine! However, after going back to England a few times, traveling extensively, making good friends in many areas of the globe, I now consider many places to be a 'home' for me – and try to embrace each aspect of a place while I am there, rather than feel like I am missing out on a place that has everything – no place is perfect!
Do you plan to go back?  Why/when?  I visited England six months ago for the summer (which is the best time to go as it has thick snow now in January!) so I don't think I will be heading back there for a while. I tend to have a trip back every two years, for a month at a time – but I have absolutely no plans to live there again.
How did you come up with the idea for South East Asia Backpacker Magazine and how did you make it happen?  After backpacking for six months around Nepal, Thailand, Laos, Vietnam, Cambodia, Malaysia and Indonesia, I had a flight booked to Australia. The plan had been to travel for six months and then look for a job in Australia as I knew that I would have ran out of cash by then! However, when the time came I just didn't feel like going back to the real world of work yet. I had been inspired and exhilarated by my travels and, after picking up many free magazines in each destination I visited along the way, I dreamt of an idea for a magazine that would be a 'travel diary for everyone'. The publication would be a quirky sidekick to the Lonely Planet and would encapsulate all of the passion I had felt for life on the road and share all of the stories that I had heard from fellow backpackers.
It began as sketches and ideas for articles and soon progressed into designing a logo, creating a content plan asking other backpackers to chip in with articles. Before I knew it I had a rough mock-up of what the first issue would look like. I printed 5 copies at a local Thai print shop and took these around to guesthouses, hostels, dive schools and adventure companies to present my idea and ask for sponsorship. We managed to get 18 businesses to sign up and advertise in the very first issue, which just about covered the printing costs. Slowly as we brought the new magazine steadily every two months, more advertisers came on board, more travellers sent in their stories and the magazine grew… I'm more passionate than ever about travel and living in South East Asia!
If you had to choose only one country in South East Asia to visit, where would you go?  As I have chosen Thailand as my place to live, I would have to say here. Although many people believe Thailand is very touristy these days and there are less and less places which are 'untouched' and 'untainted' by commercialism – I still believe that there are so many hidden gems! Just last week I was out riding in Chiang Mai, turned a corner up a track I hadn't been before and came across an incredible canyon and a deserted national park – it was so special and I didn't even know it existed after living here for nearly two years. This place always surprises you! Tropical beaches, islands, lakes, waterfalls, mountains, buzzing cities, parties, top class restaurants, luxury spas, bamboo huts, rock climbing, diving, eco tourism, adventure  – the diversity of Thailand will knock your socks off!
Do your friends and family understand/support your traveling or living abroad?  I'm really lucky to have friends and family who give me constant support, many of whom have been out to visit me in Thailand on a number of occasions. Through difficult times with the business they have been absolute 'rocks' who have encouraged me to stick at it when the going gets tough. Just a Skype call with my friend wearing a scarf in the house and the grey skies of Manchester out the window is enough to kick me into action and remember the reason I am doing this – to inspire people to get out there and travel!
Where has been your favorite place to travel?  This is an almost impossible question! For me, the very essence of travel is that you keep exploring the new – and I have so many favourite aspects of each destination I have traveled that I could not name just one. At a push I would pick out Sumatra, Indonesia, which was a fascinating place with awesome scenery and very few tourists. The west coast has beautiful deserted beaches, while the inland is studded with incredible volcanoes, tropical misty rainforest and unique local communities. I would love to go back there and explore more!
Least favorite?  Again, a difficult one… eek! Every place for me has something to discover… I would have to say some kind of manufactured fun like Disneyland!?
Hostel or hotel?  Hostels are the best for making friends and sharing travels tips with fellow backpackers in the common room – although I have to admit being a bit of a flashpacker at times and enjoying a hotel (especially in South East Asia when amazing resorts can be so cheap compared to Europe!) It is good to treat yourself once in a while – once you have earned those backpacker stripes of course!
Good book recommendation to read while traveling:  I'm going to have to be the stereotypical backpacker here and say 'Shantaram' by Gregory David Roberts – an engrossing read that I just couldn't work out if it is true! I felt like I had lost a friend when I closed the last page – that's the sign of a good book.
Do you think it's important for our generation to travel? Why?  I think it is imperative for our generation to travel and I would encourage everybody to travel as much as possible. It has been said so many times that travel is the best education and when you are sitting in a local Laotian village miles from anywhere watching a local shaman perform an age-old animist ritual while Manchester United plays on an old TV in the background – you will soon realize that this world is a colourful one – and there is so much to learn! Travel shakes you up, takes you out of your comfort zone, confronts stereotypes and makes you question your own values and beliefs and the norms of the society in which you were brought up. Cross-cultural learning is the way forward.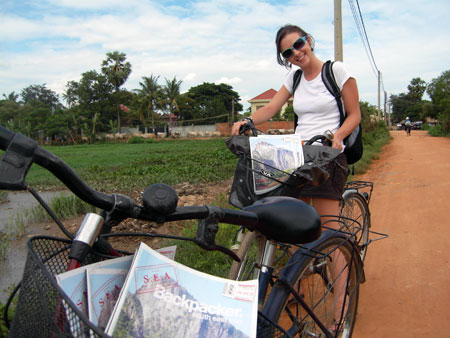 On a business trip in Cambodia
One travel tip:  Try everything! Don't think 'oh I'm not really a party animal' I won't go and explore the nightlife of Singapore. Go! Or 'I'm only going to chat with locals because I want a local experience' – chat to everyone – you never know who you will meet! This is a once in a lifetime opportunity to experience everything the world has to offer and discover new things about yourself in the process. Be a YES man / woman!
What's something you wish you had known before you started SEA Backpacker?  I wish I would have truly understood the Thai phrase 'Mai Pen Rai' (which means – 'No Worries')! When I first started S.E.A Backpacker Magazine I believed that I could make things work in the same way as they would back in the western world. I soon discovered this was not so! As many travellers in South East Asia will have discovered – things don't always go as planned; late deadlines, deliveries that don't turn up, missed meetings – sometimes it can be frustrating when you are so eager to make things work. Learning to go with the flow and say 'mai pen rai' when a situation doesn't go my way has helped me to keep my cool and realize that things always work out eventually – if just at a slower pace – in the meantime try to relax, enjoy and explore this amazing part of the world!
What is the most important thing travel has taught you?  The most important thing that travel has taught me is that you are never alone. You can travel to the ends of the earth and share a smile with someone even if you can't speak a word of the same language. There's a lot of pain in the world but I believe you can find the inspirational human spirit everywhere. A stranger is just a friend you haven't met yet!
What do you think you'd be doing right now if you weren't running the magazine in Chiang Mai?  I'd like to say playing guitar and singing in a band in cafes and bars in Melbourne – I might do that next! Or teaching English in Chile, South America – that would be cool. Who knows!?
To see more of the magazine go to www.southeastasiabackpacker.com or check it out on Facebook.  Also visit the SEA Backpacker forum to meet travel buddies, post questions and find even more travel advice about backpacking around South East Asia.
*Know someone who'd be a good fit for the Gen Y Wanderers interview series?  Tweet me at https://twitter.com/alana_morgan