Yes, it's possible.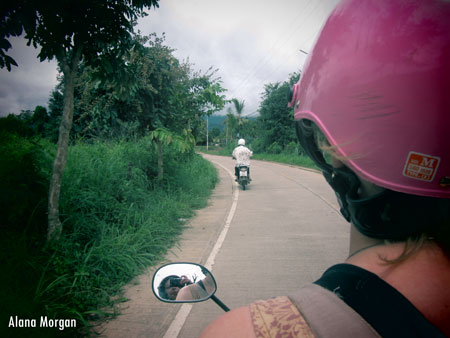 You've probably heard staggering statistics about the numbers of traffic accidents and traffic-related deaths in Thailand.  The stats even made it into the Hangover 2 . In fact, there were numbers just released about the New Year holiday: 365 people killed and 3,329 injured  throughout Thailand over a seven-day period.
Traffic here can be pretty shocking to someone who is not used to it. My very first evening in Thailand I somehow found myself riding on a motorbike between two guys, without a helmet (sorry Mom), weaving through the busy streets and staring at the families of five on a bike or pick up truck beds crammed with laborers passing us by.  Where was I???  Motorbikes wove their way through traffic and drove everywhere they shouldn't.  And it was on the other (left) side of the road!   Crazy.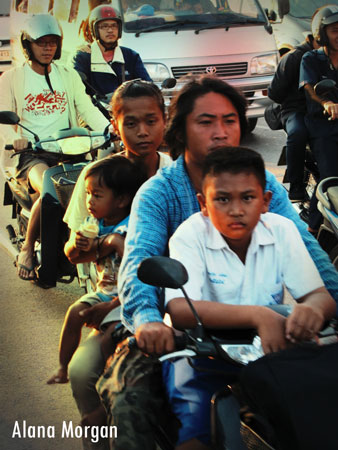 It's really not so crazy though…once you get used to it.  And there are several things you can do to make your time on the road safer.  If I had to pick the one thing I enjoy most about living here, it would be riding motorbikes.
That said, it can definitely be intimidating at first and I often see tourists riding around town, when they probably shouldn't be, just asking to be one of those statistics.  Here are a few things to keep in mind before hopping on:
First of all…if you don't know how to ride a scooter or motorcycle, this probably isn't the best place to start – Chances are if you're traveling through you'll be staying in areas with a decent amount of traffic.  To start learning and becoming confident in your driving skills it's best to start out in a place that is less hectic and where you have more space to practice at your own pace.
Take some time watching how people drive here; learn from observation – Thai driving has a different set of rules.  Traffic just flows here differently than anywhere else, it's more instinctual and less about rules, but it works.  Really.  Just watch.
Know where you are – Spend a couple days where you're staying figuring out where things are and how to get from one place to another before hopping on a bike and trying to figure out street signs.  If you haven't taken the time to feel out the traffic flow and don't really know how all the streets connect, your chances for some type of incident are greater than if you are sure of where you're going and how to get there.
Get a bike you feel comfortable with – Renting a motorbike is cheap and easy to do throughout Thailand.  You'll need to hand over your passport (or a copy of your passport with a monetary deposit) but then you're pretty much good to go.  The quality of rental bikes varies however.  If you don't feel comfortable with the first one they bring you, ask to try another.  Spend a little bit extra for an automatic or newer model that will be smoother and more simple to drive.  Check the lights, horn and brakes before you pull away.  If you're confident in your set of wheels you can focus on the road instead of dealing with a sticky gear or difficult kick start.
Wear your helmet – This is an obvious one, but still worth mentioning as you'll see plenty of people without their helmets.  Despite what it looks like, legally everyone is supposed to wear a helmet at all times.  When you see so many people driving without a helmet – and the helmet you got from the rental shop is maybe old, uncomfortable and not fitting quite right – it's surprisingly easy to get into the mindset that it's okay to drive without one.
Cars will stop in the road while the driver runs into a shop, there will be someone walking pushing a food cart slowly down the middle of the street, there will be people turning without their signals, driving the wrong way, zooming down the sidewalks or attempting to cut across five lanes of traffic – It's okay.  Don't get flustered and just keep moving.  Sure, driving down the sidewalk probably doesn't seem like the safest/smartest/legal thing to you…but was there really any harm done?  Probably not.  There's more leeway here to do what (someone may think) is necessary to get them from Point A to Point B.  Don't let it bother you now, and it will help you when make a wrong turn down a one-way soi, realize it'd be easier to do a U-turn now in the middle of the street while no cars are coming instead of waiting until the next turn, or when your motorbike stalls at a light and you're in the way.
Some things to keep in mind –
Licenses – Information on what you're legally supposed to have to drive a motorbike in Thailand is misleading and you'll hear different things about whether you do or do not actually need a certain license.  Technically, I believe you're supposed to have proper identification.  In actuality, the rental places will not ask to see a license or really even check that you can handle a bike.  If you get stopped by police for a traffic infraction, they probably won't hassle you and after a chat or small fine you'll be on your way (chances are you probably won't get stopped at all unless you do something really wrong).  If you are involved in a serious accident then that's another story…but from experience after being here for a year and a half, most of the foreigners – and several Thais – that I know do not have a license and have not had any problems.
Stay to the left, but not completely over to the shoulder.  Many people (motorbikes and, frighteningly, cars/trucks) tend to pull out onto the road without taking a full stop or even looking in the direction traffic is coming.  I've gotten used to most of the idiosyncrasies about driving here, but this is one I cannot accept.  Also, you often may find a motorbike using the shoulder to come up the wrong way.
Try not to drive on the left side of tuk-tuks or songthaews (trucks that act as shared taxis).  These are the worst for quickly pulling over to the side of the road, to pick up a passenger, without looking or signaling.  When you're driving next to one or passing, be aware that they could start veering into you at any moment.
I feel better driving a motorbike here than I would a car, and I feel safer driving a motorbike here than I would at home.  Yes, the traffic and rules are very different from home and can seem a little unsafe or unpredictable.  But at the same time, everyone rides or has ridden a motorbike.  Drivers are much more conscientious of motorbikes and used to them sharing the streets than at home – it's just the way things are done.  So take a deep breath, get to know the way traffic works, hop on and go!