In Thailand next week we're going to be celebrating the Loi Krathong festival.  You know, this one: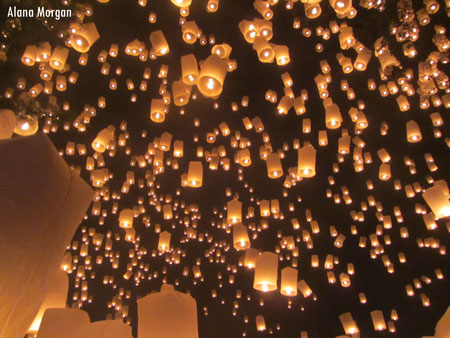 Fortunately for me, there is no better place to take part in the festivities than in the northern town of Chiang Mai.  There's more to the celebrations than simply the (truly mesmerizing) floating lanterns however.  Coming to Thailand for Loi Krathong?  Here's what you need to know:
History
Loi Krathong (ลอยกระทง), or Yi Peng (ยี่เป็ง) as it's known in the north, is celebrated each year during the full moon in the 12th lunar month.  There are many stories about how the holiday originated from Brahmanical roots, to honoring the Buddha's foot print in the Indian Nammathati River, to thanking the Thai river goddess Phra Mae Khonkha.  Now, some see it as a time to celebrate the end of the rainy season, make merit and wash away misfortune or sins that may have occurred in the past year, while making wishes for the coming year.  Whatever the meaning was or is, everyone can appreciate the beautiful nature of the holiday.
Celebration
Loi Krathong is celebrated throughout Thailand with floating lanterns, "krathong" (see below), parades, contests and fireworks (if I've learned anything living here, it's that Thais love their fireworks).  However, Chiang Mai is arguably the 'best' place to be.  For several days the center of town is a mix of long parades with traditional music, dancing and brightly decorated floats.  Light displays are up all around the old city, streets are closed and everyone heads toward the Mae Ping river to set off lanterns, floats and fireworks.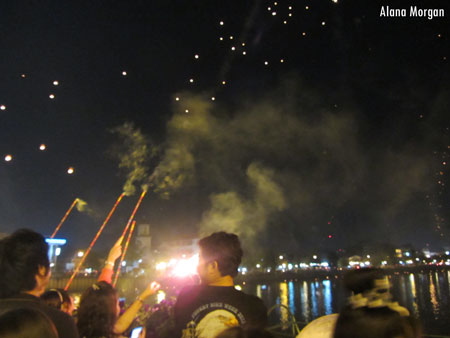 Lanterns and Floats
Khom Loi — Of course, there are the famous floating lanterns, known as "khom loi".  Made of thin paper and a paper coal that's been soaked in…some type of fuel, these can be purchased off the street 3 for $1.  Light it up and hold on until the heat has filled the lantern before making a wish and letting go.  (If you let go too soon, before it feels like the lantern is pulling on your hands a little, the lantern will not rise up and instead slowly settle to the ground.)
One of the big reasons Chiang Mai is so great for Loi Krathong is that there is a huge lantern release just outside of town in Mae Jo.  This where you see those stunning photos of hundreds of lanterns blanketing the sky (like the first photo in this post).  The date for this event is usually held days before the actual holiday and can be difficult to nail down.  If you're planning on visiting Chiang Mai to see this, check several travel forums and Thai tourism boards to make sure you have the right information.  In 2012, the Mae Jo release is on Saturday, November 24th.  There is also a special date/event for foreigners on Friday, November 30th (http://yeepenglanna.net/ticket.html) where tourists can purchase a ticket to participate in a lantern release as well as enjoy a traditional Lanna (northern Thai) meal and performances.
Krathong — Loy Krathong literally means "float krathong".  Krathong are decorative floats made out of intricately-folded banana leaves and flowers on top of a base, usually the trunk of a banana tree, bread or styrofoam.  People will add candles, incense, sweets and coins to their krathong before letting it float down a river.  Some couples will make and float a krathong together – the farther it goes down the river the longer they'll be together!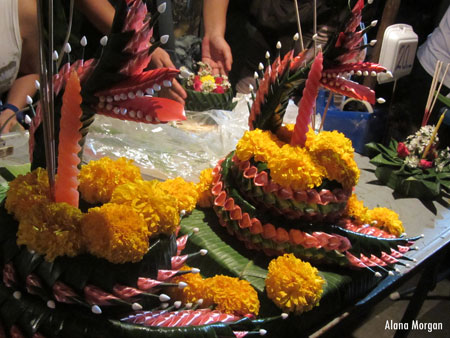 Khom Fai — During Loi Krathong everywhere you look is decorated with paper lanterns, "khom fai", and lights.  Restaurants, houses, businesses and temples will put up the festive lanterns in different shapes and colors adding an extra festive feel to the holiday.
Resources and Videos
Want more information?  Here are some additional resources to help you understand the holiday better and where to go in Thailand.
Here's a video about what Loi Krathong looks like in Chiang Mai and another from the Mae Jo lantern release.