Up next in the Gen Y  Wanderers interviews, Kimberly L. Bryant, a 29-year-old visual artist currently living and traveling throughout Southeast Asia and India.  I met Kim through mutual teacher friends in Chiang Mai and was blown away by pictures she had taken during a recent trip to India.  Though no longer in Chiang Mai, Kim is still traveling and exploring the world through her photography, graphic design, printmaking, illustration and more.  She's gone through a period of deciding how she wants to live her life and is now focusing on making that a reality – blending work, travel and art.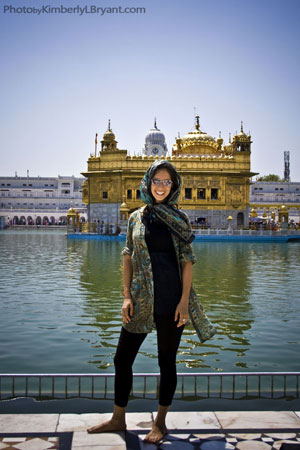 Where you call 'home': Chiang Mai
How long have you been traveling/living abroad? Two years this March.
Do you miss home? No, I don't miss home. I like being out and about at this point in my life.
Do you plan to go back? Why/when? I have no plans to go back yet. I'm open to whatever feels right at the time, playing it by ear.
Why did you choose to live in Chiang Mai? I read that it had a moat and thought: "Yes. I need to live in a city that has a moat." True story.
Do your friends and family understand/support your traveling or living abroad? Yes, they do support me in my travels. However, they've seen me go through enough that they probably stopped trying to understand the method to my madness years ago.
How old were you when you made your first big trip or visited another country? Three years old. California! I loved it and still do.
Where has been your favorite place to travel? India, which is why I'm back here again. The colours, foods, people.. grand.
Least favorite? Hm. I did not like Kathmandu, but I was only there for a total of three days, so that doesn't say very much. I try to stay away from big cities as much as I can.
Hostel or hotel? Depends on who is paying.
Good book recommendation to read while traveling: The Ground Beneath her Feet – a good book to read anytime, whether in transit or stationary. Perfect for India. Also, Susan Sontag's On Photography. Or Against Interpretation.
Best music for long bus rides: Sigur Ros, Fela Kuti, Crosby Stills Nash and Young
Why do you think it's important for our generation to travel? To expand our understanding of the world, to increase our capacity for empathy, to push our personal boundaries, to create relationships that cross cultures and religions, and to be inspired. This is not a definitive list, to be sure!
Some might think that us travelers are running away from responsibility. Do you think the idea that Millennials are lazy/slackers/commitment-phobes is true?  Why or why not? True for some, not for others. Many of us are free agents in that we can live and work where want due to the incredible amount of information and support available online. When people have choice, they can leave what they don't like and try new things. You can choose to view a person who frequently changes course or leads an atypical lifestyles as lacking commitment and effort. But, you can also choose to view them as courageous and authentic. The 'truth', I suppose, depends on the individual in question and on the person making the assumption.
One travel tip: Pack earplugs!
What's something you wish you had known before? Oh my. There is not enough space. Not travel-specific things, though, just general life lessons. Hindsight, you are a tricky mistress indeed!
What is the most important thing travel has taught you? To be myself. I'm still learning this!
What do you think you'd be doing right now if you weren't traveling/living abroad? I'd probably be in school pursuing an MA in something or other. At this point, I hope to do that sometime in future while still living abroad. I want my tasty foreign cake and I'm damn well going to eat it too.
Please check out Kim's amazing work and services at www.kimberlylbryant.com .  You can also see more of her colorful photos at http://cavortinginkodachrome.tumblr.com/ or show her some love on Twitter.