Everywhere you look in Thailand, Burma, Laos and Cambodia you'll see these decorative little houses on stands outside of homes, businesses and schools.  Known as spirit houses (or in Thai ศาลพระภูมิ  'san pram phum') these dwellings are supposed to house spirits protecting the place and are decorated with regular offerings of flowers, food, water, insense and, often it seems, red Fanta.
The spirit house outside of my home in Chiang Mai has seen better days.  It's in all sorts of decay and hasn't seen any offerings in a looong time.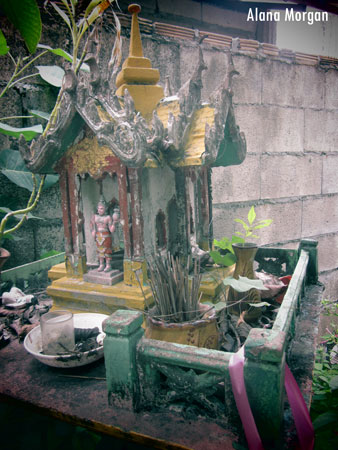 I still found it beautiful, however, and wanted to try and clean it up a bit, basically for the excuse to buy gorgeous, cheap flowers from my local market.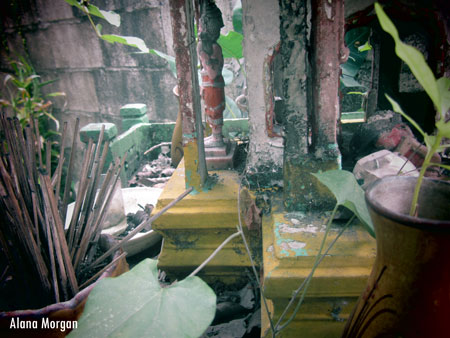 So, I tried.
Attempting to clean something that will probably never look clean again.
A friend asked if I had apologized to the spirits before I started disrupting them by cleaning.  Um….no?  I didn't realize I was supposed to give a warning before trying to do a nice thing after years of neglect.  Oops.  After not being looked after and then my rudeness I don't know how well they're going to protect me and the house.
Slightly better looking…the spirits still probably aren't too happy
I don't actually believe there are spirits in the house, but I appreciate being able to make something beautiful and think of taking care of the spirit house as a reminder to be grateful that I'm living here.  Whenever you spend a lot of time in a place it's easy to start taking things for granted and I don't want that to be the case.