Since I've started writing on here it hasn't really been much of a travel blog, as I haven't done much traveling.  I went home to the States for a month in March and since I've been back in Thailand I've been pretty stationary, content in my little Chiang Mai world.  I haven't felt the need to travel and have kept myself plenty busy with work, friends and projects that on my days off I've just wanted to be and not deal with planning, packing or paying for a trip.
Recently though (okay, actually a couple months ago now, but remember I'm in a strange time vortex here) I managed to have a quick getaway which started to reignite my travel bug and remind me of the accessibility, simplicity and restorative power of a day or weekend trip.
About 100 miles away from Chiang Mai, Chiang Rai is kind of like Chiang Mai's smaller, quieter, less interesting little sister.  While there are some key reasons to visit, I wasn't too interested in going.  Maybe the trick to enjoying something is just to go into it with absolutely NO expectations, because that is definitely what I did and ended up being pleasantly surprised with the whole experience.
The best quick trip is one that's easy, enjoyable and makes you feel like you've gotten away for a bit.  You should be able to experience the place without feeling rushed, but also feel that by the end of the day you've seen enough and am ready to go home.  With that in mind, here's what to do in Chiang Rai in 36 hours.
Eat.
Start off by grabbing crispy fried chicken, sticky rice and Coke at 7am for breakfast.  Naturally.
Boat.
From Chiang Mai, take a local bus to the tiny town of Tha Ton about an hour away then a long river boat up the Mae Nam Kok all the way to Chiang Rai.  There's nothing like traveling by boat in the middle of nowhere to make you feel like you're having a little adventure and break from your day-to-day routine.  When we went, there were only three other passengers (one of the perks of traveling in the rainy season!) for the three-hour ride – it was definitely worth the little extra travel time and cost.
Hire a driver for the day.
Normally I don't do guided tours or drivers.  I'm usually wary of them and don't like the feeling of being on a set course of what the organizers think you should see or do.  However, there's really not a ton in the city of Chiang Rai itself, and the best way to explore the surrounding areas and attractions is with your own set of wheels.  We were lucky to meet a driver waiting at the boat pier when we arrived who was very helpful and sweet, even patiently allowing me to practice my broken Thai with him.  (Also think he may have developed a bit of a crush as I then got several messages from him after I left but…that's beside the point.)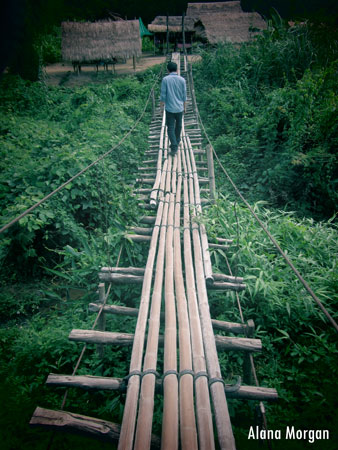 Driver and personal tour guide
Visit a local hill tribe, like the Longneck Karen.
There are many arguments for and against visiting Thai hill tribes that I'm not going to go into now.  (You can read a good take on this issue here.)   Ultimately, it comes down to what experience you're looking for, what you feel comfortable with and trying to be a respectful, conscientious visitor.  This wasn't something we were planning on doing, having mixed feelings about the situation, but curiosity won out in the end and now I have this awful photo thanks to my snap-happy driver.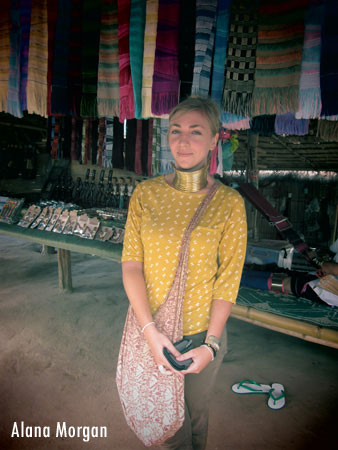 Thanks, driver.  I think he just wanted to be the one to tie the rings on my neck…

Visit temples.
Lots of them.  Always good on my list.
Eat.  Again.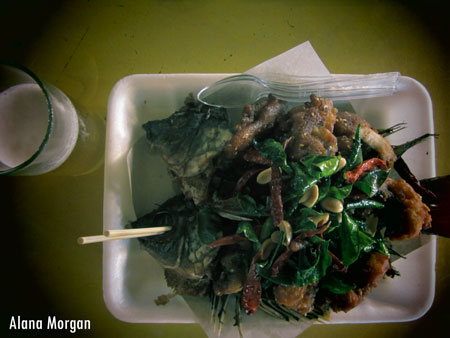 Fried fish with lime leaves, chilies and peanuts.
Tomorrow in Part 2 – The Golden Triangle, Mae Sai and Wat Rong Khun...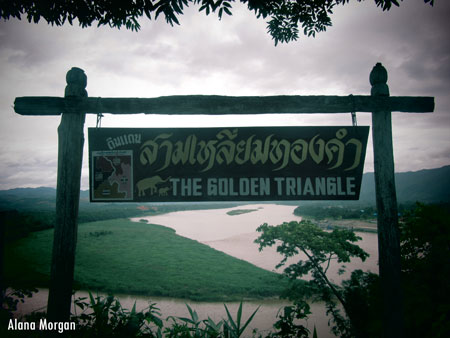 Have you ever been to Chiang Rai?  What did you do?