I know I have some explaining to do.  I've been MIA for the past few weeks, threw it out there that I may be heading back to the States then didn't say another word and haven't been writing, posting pictures or even really responding to anyone.  I've been…busy…
But before all that…before all that we're going to look at some photos.  (I know, I know – I'm taking the easy way out on my first post in ages…sorry.)
I definitely wouldn't consider myself a photographer, but considering I am currently living in what I think is one of the most colorful parts in the world, I couldn't miss the opportunity to participate in Travel Supermarket's "Capture the Color" photo blogging contest.  They're looking for travel bloggers' best shots with the colors blue, green, yellow, white and red.  While my mind immediately went to obvious choices, like the bright green rice fields of Sapa or the stunning White Temple (Wat Rong Khun) in Chiang Rai, I decided to choose pictures that are little more subtle, highlighting only splashes of the given color.  Here goes:
Blue
Taken in quiet and colorful Pushkar, India.
Green
I've always loved palm trees – probably because they are so different from the evergreens that surrounded me growing up.  Palm trees meant sun and warmer weather; even the trees themselves are brighter.  Here is my favorite type of palm amongst the rooftops of the old city in Chiang Mai.
Yellow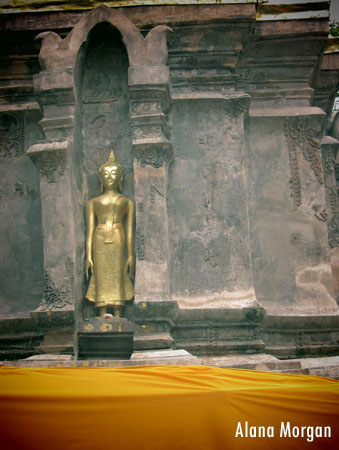 You already know that I'm a bit obsessed with Buddhist Thai temples.  Even after a year I can't get enough of them…evidenced by the fact that I'm still taking the same types of shots of the same types of things only at different wats.  This Buddha and chedi were found in Chiang Rai, a couple hours away from Chiang Mai.
White
I normally don't take photos of people, and particularly children, while I'm traveling as I feel it's almost always awkward or inappropriate.  However, I couldn't help snapping this as I was trekking in Sapa, Vietnam.
Red
This is one of my favorite shots from Chiang Mai as much of my world here has to do with driving and eating on the street.  Whenever I leave Thailand I know I will remember tucking into a steaming plate of phad thai…or phad gra pow or kha ka moo (pictured here)…with the sound of motorbike, tuks tuks and songthaews (red trucks that act like shared taxis) zooming by just a couple feet away the most.
Contest guidelines ask that you nominate 5 other bloggers, so…..
Amanda from Farsickness
Erica from Kizzling Around
Ian from Where the Sidewalk Ends
Susan from Splendor in the Lemongrass
Angela from Travel With a Purpose

Go for it.