A recurring question/conversation I've had with other travelers is about why they don't see many American backpackers.  We're definitely out there, but compared to countries that seem to send out young travelers in droves – ahem England, Australia and Israel – we just don't compete.
Whenever this topic pops up I get the impression that whomever I am speaking with might have stereotype in mind that Americans just don't want to travel.  Or believe that there's no reason to travel since, obviously, we think of ourselves as the greatest country in the world. NOT TRUE (on both accounts).  It's not that Americans don't want to see this:
Hyde Park/Kensington Palace, England
Or this:
The Bayon at Angkor, Cambodia
Or this: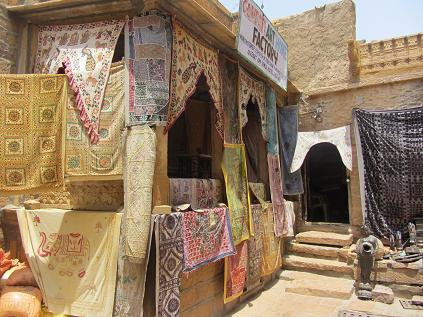 Jaisalmer Fort, India
Or this:
Koh Phi Phi, Thailand
Sure, there are Americans who just don't care to travel or don't think it's an option for whatever reason.  BUT there are numerous circumstances restricting Americans from hitting the road.  Ultimately, however, there are three main reasons why you don't see as many of us throwin' them back as the Aussies.
More about traveling: Why Travel Solo | Are People Afraid to Travel?
1. The United States is big.
Obviously.  But not so obvious to those who have never been to America.  For example, the state of Texas is slightly larger than France.  Driving the length of California takes about 14 hours.  Driving from Plymouth, England to Berwick-upon-Tweed (all the way in the opposite, northern point of the country) would take you a mere eight hours.  Instead of driving through four European countries in a long afternoon, I can get from Seattle to……Idaho.  This means that it takes us so much longer to get out of our country.  We can't get away from it.  Australia is different story, but Europeans can't comprehend how big we are.  If you think of each U.S. state as its own country, then my Countries-Traveled-Count would be up to 40+.  You may have gone on your annual family vacation in San Sebastian, but I've covered more ground.
2. College is expensive.
Like really expensive.  Like tens-of-thousands-of-dollars-in-student-loans expensive.  We can't afford to take a year between high school and college to fly around the world, and we certainly can't do it after we receive our diplomas and need to start paying our debts.  Countries where you see lots of young travelers from tend to have lower secondary schooling costs.  I know things are changing, like in the U.K. for example, but still…come on.  No one can believe the fees we pay in the U.S., and conversely, we can't fathom how little others pay.  I've met several people who have paid nothing – NOTHING – for their education thanks to the government.  No loans, plus graduation money and then being on the dole can get you pretty far, just saying…
3. We don't get any vacation.
This is the kicker.  Everyone is shocked to hear that ten days of vacay – sorry, holiday – a year is the norm.  We may be overweight, loud and demanding, but we work.  A lot.  When we do actually take our PTO and use it for a real vacation (not a wedding or family emergency), we book a quick trip to Hawaii or Vegas or Mexico – we can't spend precious hours wasted in a plane from Arizona to Asia!
How exactly are we supposed to travel, say during a transition time recently out of school, when we are expected – and need – to immediately get a job to pay off those students loans and therefore have only two free weeks a year?  Add to that the fact that whatever dream destination we have in mind is probably very far away and you get a recipe for "no" Americans traveling.
Despite these hurdles it definitely is possible to get out there, it just requires some planning, ambition and a backpack.
Photographs by Alana