For having such an unassuming nature, I think Chiang Mai takes the cake for superfluous city slogans….although it does have a lot to be proud of.
Chiang Mai is Bangkok's little, nicer, cleaner, smaller, better, prettier sister in the north.  (I'm clearly not biased at all.)  Called the "Rose of the North" or "The Most Splendid City of Culture", according to the government, the city was founded more than 700 years ago after several auspicious signs marked the area as a new capital city for the Lanna (Northern Thai) Kingdom.  Today, nestled in between the jungle-y hills, this walled city is known for its stunning landscape, abundant resources, generous hospitality and all-around general…coolness (that's a technical term).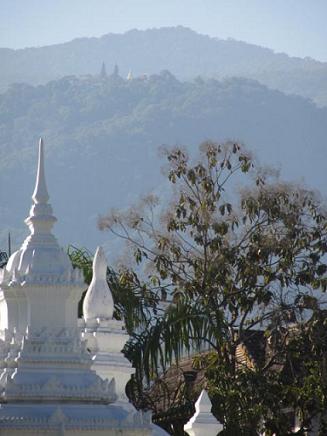 Looking up at Doi Suthep from Wat Suon Dok on the west side of town
From a tourist perspective, Chiang Mai has a ton to offer as a popular base for various trekking, hill tribe and elephant camp outings, is home of some of the best markets for traditional, handmade goods, incredible scenery, food, people and nightlife.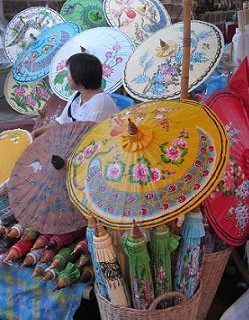 At the Sunday Night Walking Street
From a "local" – or rather expat – perspective, the town is artsy, earthy, active, yet peaceful and has an abundance of incredible, fresh food, sunshine and cultural activities.  It's not too big, but not too small and has any comfort (or peanut butter) you may want while still retaining a culture and a feeling that is undeniably Thai.  I love how comfortable I am here, knowing my way around the city, but also continually finding new sois (little streets) or wats (temples) to explore, different food stalls to try and new activities to check out.
Nothing I can say can fully describe the feel of the place.  It's a mix of contradictions – and perhaps that's why I feel alright here at the moment as I am also filled with conflicting likes, interests, thoughts beliefs and desires.  It's somewhat dingy and not the most attractive city, yet still charming and exotic  A wide range of travelers flock here, but you can still get away from the tourist areas with just a strategic turn down the right soi.  There are prostitutes and yoga, McDonald's and food stalls, massive double-decker tour buses driving alongside old 50cc Honda Waves, meditation retreats and zip lining, thumping night clubs and shacks selling glasses of whiskey sodas right off the street.
It's a beautiful, dirty, tacky, genuine, unbelievable, interesting, energizing, lazy, crazy place and I'm fortunate to spend a little bit of time here.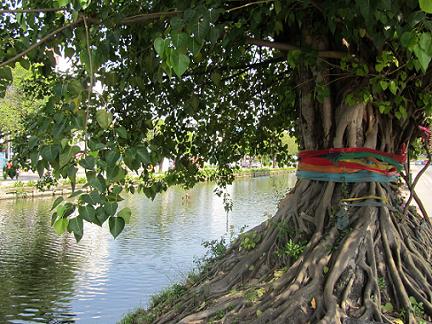 Spirit Tree along the moat encircling the Old City
Have you ever been to Chiang Mai?  What were your thoughts?
Photographs by Alana